Looking to Outsource Order Fulfillment to a 3PL?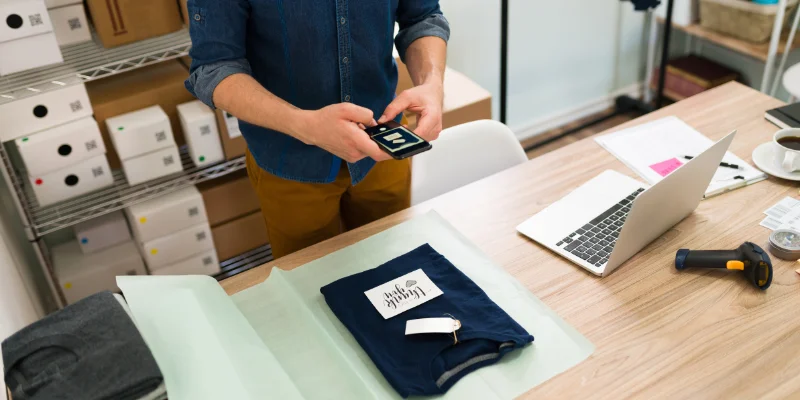 How To Fulfill OpenCart Orders?
Fulfilling orders for your OpenCart store is integral to any eCommerce store. The correct order fulfillment solution can help you streamline order fulfillment services and optimize customer satisfaction. 3PL (third-party logistics) services provide a cost-effective way to outsource your OpenCart shipping needs and ensure that orders are fulfilled quickly and accurately. These services offer a range of benefits, including lower shipping costs, faster order processing times, and better customer service.
With 3PL for OpenCart fulfillment services, you can trust that your orders will always be handled precisely and professionally. Whether you're selling physical or digital products from an online OpenCart store, 3PL fulfillment services make it easier to manage orders, reduce shipping costs, and ensure customer satisfaction. With a reliable 3PL provider, you can be sure that your eCommerce customers will get their orders on time with suitable packaging and contents every time and increase customer satisfaction.
How 3PLs Help Fulfill OpenCart Orders?
Third-party logistics (3PL) providers can help online merchants relieve order fulfillment stress. With the right 3PL partner, OpenCart store owners can improve delivery times and optimize customer satisfaction.
Streamline Your Order Fulfillment Process:
3PLs can help streamline the order fulfillment process for OpenCart orders. They provide access to inventory and logistics, ensuring products are shipped quickly and accurately. This helps keep customers happy and, in turn, strengthens customer loyalty.
Cost Savings:
Working with a third-party logistics provider can help save OpenCart retailers money. 3PLs leverage their buying power and relationships with carriers to get lower shipping costs, saving the retailer money so that they can focus on growing their business.
Scalability:
3PLs provide scalable solutions that allow retailers to grow their businesses without investing in new operations or infrastructure. This helps reduce the upfront investment needed to accommodate larger orders and makes OpenCart retailers more competitive.
How Do 3PLs Connect With OpenCart?
Third-party logistics (3PL) providers connect with OpenCart to provide small and medium enterprises (SMEs) access to better supply chain management. By leveraging an automated system, 3PLs for OpenCart can help set up kitting services, establish a delivery date, ensure product quality control, and customize reverse logistics solutions. These services allow businesses to streamline their e-commerce functions while controlling costs and optimizing customer satisfaction.
OpenCart offers a range of features compatible with 3PLs, including inventory management and order fulfillment services. Integrating these capabilities into your OpenCart site allows you to automate the entire process from stock replenishment to delivery tracking. With automated processes, you save time and money while making sure orders are fulfilled quickly and accurately.
Benefits Of Outsourcing OpenCart Fulfillment Needs
Outsourcing 3PL for OpenCart fulfillment needs for businesses selling products online can be a time-saving and cost-effective solution. It can also lead to increased efficiency, scalability, and customer satisfaction.
Cost Savings:
Outsourcing your OpenCart fulfillment needs can save time and money by destroying the need to invest in costly inventory or warehouses. Plus, 3PL providers often provide discounted rates for their services that would require more work to obtain.
Increased Efficiency:
By outsourcing your OpenCart order fulfillment, you can leverage the expertise and resources of a 3PL provider. This means you can focus on your core business while they manage order processing, dignity, and delivery logistics so you can be more efficient.
Improved Customer Service:
When you partner with a 3PL provider, you benefit from their experience in customer service and satisfaction. Their team of professionals is trained to deliver the highest quality customer service so your customers are satisfied with their purchases and keep coming back.
Things To Consider When Looking For A 3PL For OpenCart Orders
When managing your e-commerce business, outsourcing fulfillment services to a third-party logistics (3PL) provider can be an efficient and cost-effective solution before signing on with a 3PL for OpenCart orders.
Price:
Before selecting a 3PL for OpenCart orders, understand their pricing structure to determine if it will be cost-effective for your business. It's essential to understand the range of options available and be sure that you select a 3PL with competitive pricing.
Experience:
Make sure to research the experience of the 3PL provider with OpenCart orders before hiring them. Check references and reviews from other businesses to assess how they manage orders, product fulfillment, and customer service. So that you can compare and contrast the 3PL providers on your list.
Storage Capacity:
When selecting a 3PL for OpenCart orders, you must consider the provider's warehouse size and storage capacities. Ensure their available space is sufficient for your current needs and projected growth. So you stay in storage space in the future.
Top 5 Options For OpenCart Order Fulfillment
OpenCart is a popular e-commerce platform that offers numerous features for online store owners. Order fulfillment is essential to any e-commerce business, and OpenCart provides several options for efficient order processing.
SHIPHYPE
OpenCart Native Fulfillment
ShipStation
ShipWorks
ShipRush
OpenCart order fulfillment can be streamlined with the help of these top 5 options. Depending on your business needs, you can choose the option that best suits your requirements for managing orders, tracking shipments, and automating the fulfillment process.
Benefits Of Working With SHIPHYPE As Your Fulfillment Partner
Are you looking for a reliable 3PL to fulfill your OpenCart orders? SHIPHYPE is a perfect choice! Their experienced team will manage and streamline your fulfillment process, providing superior customer service and fast turnaround times.
Hassle-Free Order Management:
Through their 3PL for OpenCart, SHIPHYPE ensures that your orders are managed in an easy, hassle-free manner. With their services, you can easily customize order management processes from warehousing to shipping and beyond. So you can focus more on your core business activities.
Subscription Boxes:
With SHIPHYPE's 3PL for OpenCart, you can create subscription boxes and manage them effortlessly. They store all the inventory required to fulfill your subscription orders in their warehouses and ship them out as needed, leaving you free to focus on marketing and customer service.
Budget-Friendly Shipping:
With SHIPHYPE's 3PL for OpenCart, you can enjoy budget-friendly shipping rates. Their services are designed to provide low prices and minimum shipping costs, allowing you to make the most of each order so that you can focus on growing your business.
Request a quote
Fill the form below and our sales team will be in touch.
Don't like forms?
Email Us:
[email protected]