Looking to Outsource Order Fulfillment to a 3PL?
Advantages of Using a 3PL Warehouse in Vancouver
Are you looking for a new way to store your inventory and ship products to customers? Consider using a 3PL Warehouse in Vancouver, BC! Third-party logistics, or 3PL Warehouses, are becoming increasingly popular due to their many benefits.
With a 3PL warehouse in British Columbia, you can rest assured that your inventory is well-maintained and safe from potential security issues. Ecommerce businesses especially benefit from the services a 3PL Warehouse provides – such as storage, shipping, and customer service. In addition to these benefits, many other advantages come with using a 3PL in Vancouver warehousing.
Easy And Secure Handling:
Many 3PL Warehousing services offer secure handling of your inventory, which is especially beneficial for businesses with large amounts of inventory. Using a 3PL Warehouse in Vancouver, you can rely on them to securely store and handle inventory and comply with any necessary customs regulations. This saves you time and money that would have been spent manually handling your inventory.
Cost Saving:
Using a 3PL in Vancouver Warehouse operations can save you money. This includes reduced transportation costs since they can ship your inventory for you and savings on inventory storage costs due to their bulk storage capabilities. Additionally, the cost of hiring additional staff is eliminated as 3PL Warehouses provide all tasks related to managing inventory.
Container Transloading:
A 3PL Warehouse in Vancouver can also provide container transloading services. This is a cost-effective way to move large inventory quantities from their warehouse to yours. The 3PL Warehouse will unload the contents into separate containers for easy access and handling. This reduces the time spent manually unloading containers at your warehouse and improves efficiency. Furthermore, it eliminates the need to purchase equipment or pay extra labor costs as handles everything the 3PL Warehouse handles everything.
Services Offered by 3PL Warehouse Companies in Vancouver
Regarding logistic services, a 3PL Warehouse in Vancouver can provide many services. This includes picking and packing individual items as well as larger orders. They can customize the packaging to your specific requirements, ensuring all products are properly packaged and labeled before being shipped.
Here are some of the services that you can expect from a 3PL warehouse in Vancouver:
Order Fulfillment:
Every business wants to ensure customers have a smooth and hassle-free experience when ordering from them. With the help of a 3PL warehouse, businesses can guarantee that all orders are fulfilled quickly and accurately. They will manage the entire fulfillment services, from receiving goods and packing to shipping solutions.
Inventory Management:
Inventory management can be difficult and time-consuming for businesses, especially when dealing with large volumes of products. A third party logistics 3PL warehouse will help you manage your inventory efficiently by tracking all incoming and outgoing stock, ensuring that products are always in stock. They also can customize their systems according to your needs.
Order Processing:
A 3PL warehouse will handle all your order processing needs, from picking and packing to shipping. They also can customize their services according to the specific requirements of businesses. This allows them to ensure that orders are shipped quickly and accurately. Additionally, they can provide automated order tracking updates that help you stay informed on the status of each order.
Logistics:
3PL warehouses are experienced in logistics solutions and can help you reduce shipping costs by finding the most efficient routes and carriers. They also can provide various services, such as storage, packaging, labeling, palletizing, and order fulfillment. All these services improve efficiency by eliminating manual processes and reducing the time it takes to get your products into the market. With their help, you can achieve faster order processing and delivery times while reducing the resources needed to run a successful operation.
Things To Consider When Looking for a 3PL Warehouse Provider
Not every 3PL warehouse can meet your needs, so it's important to research and find the right provider. SHIPHYPE understands the importance of a reliable and efficient 3PL provider to help you grow your business. So, here are a few things to consider:
Customer Service:
It's important to find a 3PL provider that provides excellent customer service. At SHIPHYPE, we understand how important it is for our customers to get the support they need throughout the process. We make sure that each of our customers is taken care of every step of the way.
Scalability:
Selecting a 3PL provider that can scale with you as your business grows is important. SHIPHYPE offers customized services and solutions that enable our customers to grow their businesses quickly, efficiently, and cost-effectively.
Technology:
Choose a 3PL provider with the latest technology to handle all your shipping needs. At SHIPHYPE, we have the most up-to-date technology, including powerful software and smart logistics systems, to ensure our customers get the best service possible.
Market Knowledge:
A 3PL provider should have a strong understanding of the market and be able to provide you with detailed information about the competition, pricing trends, and customer preferences. This helps you make sound decisions when selecting a partner that meets your needs.
Does Your Business Need a 3PL Warehouse Vancouver Provider?
If your business is struggling with managing the storage and distribution of goods in Vancouver, then a 3PL (third-party logistics) warehouse provider might be a great solution. They can help you store, pack, and ship your products efficiently, saving you time and money. With a 3PL, you won't have to worry about finding and managing warehouse space or hiring extra staff for these tasks.
They have the expertise and resources to handle it for you. This can free up your time to focus on other important aspects of your business, like increasing supply chain and marketing. So, if you're looking for a convenient and cost-effective way to handle your logistics in Vancouver, consider partnering with a 3PL warehouse provider.
Differences Between 3PL Warehouse and Fulfillment Center
A 3PL warehouse and fulfillment centers are where businesses store and manage their products, but they serve different purposes. A 3PL warehouse mainly focuses on storing and managing inventory. They can help with tasks like receiving, storing, and preparing goods for shipping.
On the other hand, a fulfillment center is more specialized in the final steps of the process. They take care of packing and shipping orders directly to customers. They often have systems to handle a high volume of individual orders quickly and efficiently. So, while a 3PL warehouse is like a storage space, a fulfillment center is like a well-oiled machine for getting products to customers' doorsteps.
Why Choose SHIPHYPE?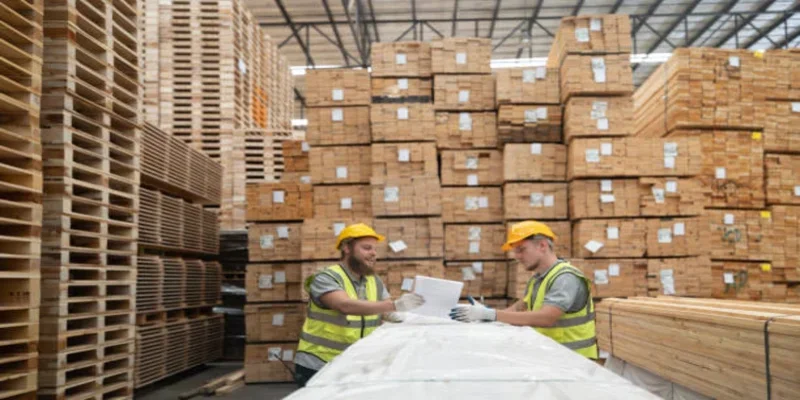 If you're looking for a reliable and efficient solution for your e-commerce logistics needs, SHIPHYPE is the answer. With our specialized services, such as cross-docking, rail services, and last-mile delivery, we're committed to making your shipping and fulfillment processes seamless and hassle-free. Here are some compelling reasons why choosing SHIPHYPE can be a game-changer for your business.
Dedicated Customer Support:
We prioritize customer satisfaction, and our dedicated support team is always ready to assist you. Whether you have questions or concerns or need customized solutions, we're here to provide the support you require.
Global Reach, Local Expertise:
With SHIPHYPE, you get the best of both worlds. We have a global network to reach customers worldwide while also possessing local expertise to navigate the intricacies of specific markets and regions.
Focus on Growth, Leave Logistics to Us:
By partnering with SHIPHYPE, you can redirect your time and resources toward growing your business, knowing that your logistics services are in capable hands. Let us handle the warehousing, packing, and shipping so you can focus on what you do best: driving your business forward.
Request a quote
Fill the form below and our sales team will be in touch.
Don't like forms?
Email Us:
[email protected]