Looking to Outsource Order Fulfillment to a 3PL?
Advantages of Using a Pick And Pack Service in California
Have you ever had to organize a large number of items for shipping? It can be incredibly time-consuming and labor-intensive. That's why many businesses turn to pick-and-pack services in California. These fulfillment services make it easier to prepare shipments, increase efficiency, and give you the peace of mind that your orders are handled professionally. Here are some of the advantages of using pick-and-pack services in California:
Automated Sorting and Packing
Pick and pack fulfillment services use automated sorting and packing systems to organize items and prepare them for shipment quickly. This saves you time, labor, and money because it eliminates the need for manual sorting and packing.
Increased Efficiency
Pick and pack services can help increase efficiency by streamlining the shipping process. This includes reducing shipping costs by optimizing the order fulfillment process and improving customer service by ensuring the accuracy of orders.
Streamlined Shipping
Pick and pack services have streamlined shipping processes to help you get your items to customers quickly and efficiently. They also offer options for tracking shipments, so you always know where your package is at any time. This allows you to provide better customer service and keep your customers informed about when they can expect their items to arrive.
Improved Customer Service
Pick and pack services also improve customer service by ensuring the accuracy of orders. By utilizing automated processes, pick and pack services guarantee that orders are filled correctly, so there's less chance for mistakes or errors. This helps ensure customers are happy with their orders, reducing the number of returns and increasing customer satisfaction.
Services Offered by Pick And Pack Companies in California
Pick-and-pack companies in California offer various services to meet the needs of businesses of all sizes. From small operations to large corporations, pick-and-pack companies can provide order fulfillment and inventory management capabilities. In eCommerce, they also provide warehousing services, assembly services, and shipping services for online stores. Some of the significant services they provide include:
Order Processing:
Many third-party logistics companies in California are experienced in handling orders with accuracy and speed. This includes taking customers' orders, verifying order details, preparing the items for shipping, packing them correctly according to specifications, and dispatching them.
Inventory Management:
Pick and pack companies can help manage inventory levels throughout the supply chain by tracking stock availability, reordering, and restocking when necessary. They can also ensure that products are stored in the right place to maximize efficiency, minimize waste, and reduce losses.
Warehousing:
Pick-and-pack companies in California also provide pick-and-pack warehouse services. This includes providing storage for goods, managing inventory, and preparing shipments. These fulfillment partner companies can help ensure products reach customers on time with minimal damage or defects. They may also offer value-added services such as product customization and packing solutions.
Shipping:
Pick-and-pack fulfillment companies in California also provide shipping services. This includes managing the logistics of shipments, such as selecting routes and carriers, routing orders to shipping locations, and tracking orders in transit. They can also help manage returns and ensure that products are delivered to customers on time.
Things To Consider When Looking for a Pick And Pack Service Provider
No one has the time or resources to manage their logistics and shipping needs. That's why it's important to choose a pick-and-pack service provider with experience managing shipments for businesses like yours. The market is flooded with many 3PL companies.
But among them, SHIPHYPE is one of the best 3PL service providers in California. We have a long history of helping businesses streamline their shipping operations and save money. Some things to consider when looking for a pick-and-pack company include the following:
License Of The Carrier:
Make sure the carrier you choose is licensed and insured. SHIPHYPE offers a comprehensive package of protected services with an extensive liability insurance policy that covers both our vehicles and your goods. Many of our carriers also have additional coverage for certain types of cargo.
Years Of Experience:
Look for a company with proven experience in the field. At SHIPHYPE, our teams have managed shipments and logistics for businesses like yours for over ten years. We also offer great customer service and are available 24/7 to answer any questions.
Cost Of Services:
It is important to compare the cost of services offered by different pick and pack companies. SHIPHYPE offers competitive rates for all shipments, so you can be sure you are getting the best value for your money.
Routing Guide Compliance:
Ensure that your shipping carrier is compliant with the latest routing guide requirements. At SHIPHYPE, we constantly update our systems to comply with all the latest regulations and standards. This ensures that all of your shipments are routed safely and efficiently.
Does Your Business Need a Pick And Pack Service California Provider?
If your business deals with shipping out orders to customers, especially in California, a Pick and Pack service can be a game-changer. It's like having a dedicated team that carefully selects and packs each item for shipment, ensuring accuracy and efficiency.
This means less stress and more time to focus on growing your business, whether a small online store or a larger operation; a Pick and Pack service in California can streamline your fulfillment process and leave your customers smiling.
Differences Between Pick and Pack Service Provider and Fulfillment Center Services
A Pick and Pack service provider is a company that helps businesses with the process of preparing and shipping orders to customers. They "pick" the items from the inventory, then "pack" them securely before sending them out.
On the other hand, a fulfillment center is a larger facility that not only picks and packs but also stores and manages business inventory. They handle a wider range of services, including receiving goods, storing them, and managing the entire order process.
So, while both help with getting orders ready, a Pick and Pack provider focuses mainly on the packing and shipping, while a fulfillment center takes care of more steps in the process.
Why Opt for SHIPHYPE As Your Pick And Pack Service Provider?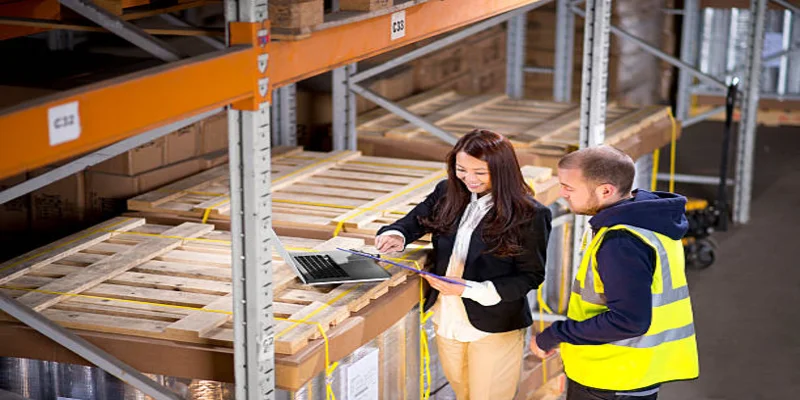 Every business has different needs, and this is especially true when it comes to order fulfillment. SHIPHYPE is an excellent choice for businesses looking for a reliable Pick and Pack provider. Our team of experts can assist you with the entire process, from picking items from inventory to packing them securely before shipping them out. The reasons to opt for SHIPHYPE include:
Efficient Pick And Pack Process:
We have a streamlined and well-planned pick and pack process, which helps us save time while ensuring no detail is overlooked. Businesses can rest assured that their orders will be picked, packed, and shipped promptly.
Highly Secure Packaging:
Our team employs rigorous packaging standards to ensure the safety of your products during transit. We use high-quality materials for packing and ensure all packages are securely sealed before they leave our facility.
Customized Logistic Solutions:
Our goal is to provide customers with an efficient and cost-effective shipping solution. We have access to various transportation networks and can tailor our service according to the customer's needs. We offer various delivery options, from ground to air, so you can choose one that best fits your budget and timeline.
Caring for the Environment:
We are dedicated to reducing our environmental footprint. We employ efficient shipping practices that help reduce carbon emissions and waste production. Our shipments are handled carefully, ensuring minimal damage and wastage. Additionally, we recycle or reuse all packaging materials whenever possible.
Request a quote
Fill the form below and our sales team will be in touch.
Don't like forms?
Email Us:
[email protected]