Looking to Outsource Order Fulfillment to a 3PL?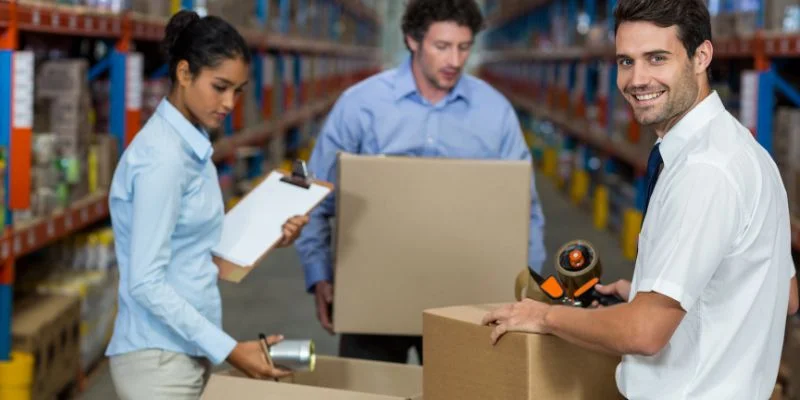 Advantages Of Using A Shipping Company In California
California is one of the greatest places to live and do business. It has a booming economy, great transportation infrastructure, and access to some world's most renowned ports that make it a great place for businesses of all sizes to ship their products. And the possibilities are endless.
Using a shipping company in California can provide many benefits, like lower shipping costs & access to third-party logistics providers. With the right company, businesses can also enjoy competitive rates, reliable service, and flexible package carriers that make shipping easier than ever.
Benefits Of Working With A Shipping Company In California
Working with a shipping company based in California can be extremely beneficial for your business. Here are some of the best benefits of working with a shipping company in California:
Local & International Expertise:
A California-based shipping company will have extensive knowledge of the local and international marketplace. This can be incredibly helpful when it comes to meeting your shipping needs, whether you're dealing with a local or international customer.
Increased Efficiency:
When you work with a shipping company in California, you can rest assured that your packages will reach their destination on time. With the help of a professional shipping company, you'll benefit from increased efficiency, fewer delays, and greater accuracy than if you had to handle the shipping process on your own.
Multiple Delivery Options:
A shipping company in California will provide you with multiple delivery options. This includes same-day, overnight, second-day, and even international shipping options. So whether you are shipping vehicles, personal belongings, or essential supplies, you can be sure that you're getting the best possible service from the shipping company.
Services Offered By Shipping Company In California
California has 12 ports in different cities, including the Port of Los Angeles, ca, Long Beach, San Francisco, San Diego, and Oakland. And a trusted shipping company can provide a number of different shipping services that can help get your cargo and goods safely to their destinations. Below mentioned are some of the expectational services offered by a good shipping company:
International Shipping & Freight Forwarding:
A reliable California shipping company can provide you with the best international shipping and freight forwarding services. They can help you with the paperwork, customs clearance, cargo consolidation, and more so that you can get your goods where they need to be.
Multiple Cargo Options:
A good shipping company will have a range of cargo options, including exporting and importing by air, sea, and land. From vehicle shipping and container to heavy machinery and other large cargo items, they will be able to accommodate the needs of your business.
Door-To-Door Service:
A good shipping company will also provide customers with door-to-door service. This means that you don't have to worry about arranging pick-ups and drop-offs from multiple locations.
Things To Consider When Looking For A Shipping Company Provider
California- the world's most populous state, is home to various cultures, industries, and activities. And if you want to thrive in this golden state, you need to have the right shipping company on your side. Here are some vital aspects to contemplate when choosing the best one:
Experience & Reputation:
A shipping company with a good record of successful deliveries is truly worth considering. So look for shipping companies that have been in the business for years and have designated a reputation for getting shipments to their destination on time without any damage.
Service:
Make sure the company you choose offers all the services you may need, such as air freight forwarding, ground transportation, and international shipping. Also, inquire about related services such as customs clearance, warehousing, tracking, and delivery confirmation.
Cost:
The cost of shipping is an important factor when choosing a California shipping service provider because it can have a major impact on your bottom line. If you need a cost-effective solution, look for companies that offer discounts or special deals for volume shipping.
Does Your Business Need A Shipping Company California Provider?
If you live in California and do a business that involves shipping products, then a shipping company provider can be a great asset. Shipping companies can help you manage all aspects of your shipping process, from packing & labeling to ensuring that your shipments arrive on time.
They can also provide you with important resources, such as tracking and reporting capabilities, to help streamline your operation. Freight shipping companies in California can help you save time, money, and energy when it comes to managing all of your shipping needs.
Differences Between Shipping Company Provider And Carrier
The main & most obvious difference between a shipping company provider and a carrier is that a shipping company provider is a company that offers various shipping services, including logistics management, packaging, documentation, and customs clearance, while a carrier is a company that specializes in the physical transportation of goods from one location to another.
In simple words, the shipping (moving) company provider takes care of the paperwork and does all the background work, while the carrier only takes care of the physical transportation.
What Type Of Companies Look For Shipping Company In California?
California is America's number one gateway to the Pacific Coast and a central hub for shipping goods throughout the world. As a result, many businesses across all industries are looking for the right shipping company in California to help them deliver their items. Some of them are:
Technology Companies:
California, particularly Silicon Valley, is a hub for the technology industry. Tech companies, whether they are based in San Jose, Los Angeles, San Francisco, San Diego, or elsewhere, often need to transport computer hardware, electronics, and other technological equipment.
Food & Beverage Companies:
California is also known for its agricultural industry, including the production of fruits, vegetables, dairy products, and wine. Food and beverage companies in California Corporation often require shipping services to distribute their perishable goods to various locations.
Wholesale Distributors:
Wholesale distributors play a crucial role in supply chain solutions, and they frequently require California freight shipping companies to transport their goods from manufacturers to retailers or other businesses. Shipping companies also offer other delivery services, such as same-day delivery, air cargo shipping, and more. With their experience & expertise in the transportation industry, wholesale distributors are able to ensure packages arrive on time.
Benefits Of Choosing SHIPHYPE As A Shipping Company In Californiae
Exceptional Service For Every Client
At SHIPHYPE, they understand that each customer is unique and their shipping needs may vary. That's why they strive to provide exceptional, personalized service for all of their clients.
Cost-Effective Solutions
SHIPHYPE offers a variety of cost-effective shipping solutions to meet any budget. Whether you need ground or air shipping, they can provide a solution that's right for you. They also offer competitive rates, allowing you to save even more money on your shipping costs.
Reliable Shipping
When you choose SHIPHYPE, you can rest assured that your items will arrive on time and in perfect condition. With this company, you can track your shipping container confirmation directly; it gives you complete peace of mind knowing that your items will get to you safely.
Request a quote
Fill the form below and our sales team will be in touch.
Don't like forms?
Email Us:
[email protected]