Looking to Outsource Order Fulfillment to a 3PL?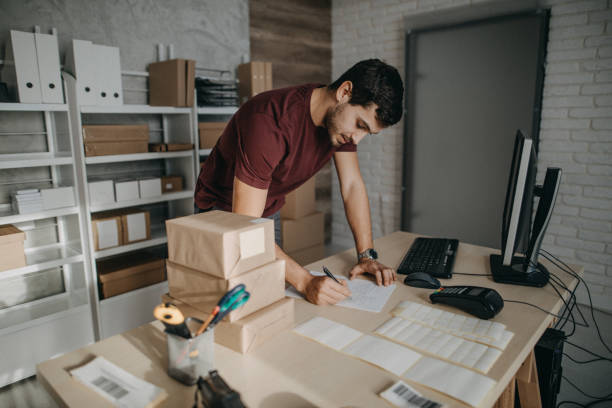 What Do 3PLs Do?
Fulfillment centers or third-party logistics companies (3PL) provide warehousing, inventory management, and order fulfillment services for Amazon sellers. They manage the entire supply chain process, from receiving orders to shipping products directly to customers. This can help reduce costs associated with running an e-commerce business, such as shipping costs, fulfillment fees, and other overhead expenses.
Amazon sellers need the help of 3PLs to meet the demands of their customers. By utilizing services from fulfillment centers, they can provide quick and reliable delivery with a better customer experience. This helps them increase sales channels and builds brand loyalty among Prime customers. Some benefits of working with 3PLs include the following:
Quick Delivery With Low Shipping Costs
Fulfillment centers can help you ship your products quickly and cost-effectively. They house large inventory, which allows for same-day or next-day deliveries. If amazon sellers manage on their own, they end up paying a lot of shipping costs and don't get the benefits of fast delivery.
Better Inventory Management
Fulfillment centers manage inventory for you, reducing the risk of out-of-stocks and overstock, leading to lost sales opportunities. They can help you keep track of inventory levels, automate ordering processes and manage returns.
Improved Customer Experience
Customers who receive their orders quickly will likely purchase from you again. This increases customer loyalty and reduces frustration. With a reliable partner like SHIPHYPE fulfillment centers, you can maximize your customer experience, improve sales channels and create a lasting impression with your customers.
What Type Of Companies Use A 3PL?
If you are working as an amazon seller or running an e-commerce business, using a 3PL for your order fulfillment needs can be beneficial. Choosing third-party logistics helps you save costs and optimizes your operations. Whether it's a small business or a large corporation, companies of all sizes can use 3PLs to manage their supply chains; their expertise and resources will help you ship your products quickly and efficiently.
SHIPHYPE, one of the leading 3PL providers, has fulfillment centers offering professional order fulfillment services. Their expertise and resources help you manage your supply chain better and maximize customer experience.
Do 3PLs Work With Amazon Sellers?
Yes, 3PLs are very popular among amazon sellers. Generating revenue and increasing sales channels is the key to success for any e-commerce business. Fulfillment centers keep your fulfillment process smooth and steady and help you save costs. They provide end-to-end supply chain solutions that enable you to deliver products to customers and gain their trust quickly.
So if you want to increase sales, optimize your operations and maximize customer experience, working with a 3PL is the way to go. SHIPHYPE can help Amazon sellers manage their inventory and order fulfillment needs with professional services and resources. With them, you can ensure your customers get their orders quickly and efficiently, which will help build customer loyalty and generate more revenue for your business.
How To Know If A 3PL Is Good For You?
Searching 3PL who is trusted and reliable is not an easy task. Before choosing a 3PL, research the company and its services. Here are some tips to help you decide:
Check Their Reputation
Any 3PL that you consider should have a good reputation. Research the company and read reviews from past customers to determine if they are trustworthy.
Check Their Services
Ensure the 3PL you choose offers all the needed services, such as storage, order fulfillment, and shipping options. This will help ensure your products are handled properly and shipped to customers quickly.
Explore Their Resources
A good 3PL will have the resources and expertise to help you manage your inventory and order fulfillment needs effectively. They should also have a customer service team that is always available to answer any questions or concerns you may have.
Look At The Pricing
Cost is an important factor to consider when selecting a 3PL. Ensure the pricing is reasonable and there are no hidden fees or charges.
If you find the right 3PL, like an Amazon fulfillment center, they can be a great partner to help manage your order fulfillment needs. SHIPHYPE provides comprehensive services enabling Amazon sellers to ship their products and maximize customer experience efficiently.
With their resources and expertise, they ensure customers receive their orders quickly and efficiently. So if you're looking for a third-party logistics provider, SHIPHYPE is the right partner for your business.
Problems You Will Face When Searching For A 3PL As A Amazon Seller
Searching for the right fulfillment center for your ecommerce business is not easy. Here are some of the common problems Amazon sellers will face when looking for a reliable and trusted third-party logistics company:
Not having enough knowledge of 3PL services
Finding a 3PL with reasonable pricing
Not getting desired customer service from the 3PL
Not having enough resources to handle order fulfillment quickly and efficiently
Dont have the capability to handle complex supply chain management
These are some common problems Amazon sellers will face when searching for a 3PL. But with SHIPHYPE, you can solve all these problems and optimize your order fulfillment process.
Why Choose SHIPHYPE As Your Fulfillment Partner?
SHIPHYPE is the perfect 3PL partner to handle your Amazon fulfillment needs. With our robust technology, we can quickly and efficiently manage all of your orders efficiently and accurately.
We understand the importance of fast delivery times and reliable customer service, so we ensure that all your orders are shipped out as quickly as possible. As amazon's fulfillment centers become increasingly busy, SHIPHYPE can help relieve some of the stress associated with managing your fulfillment needs. Our services include:
Packing And Shipping Orders
We package and ship orders to customers quickly and efficiently, so you don't have to worry about delays or order mix-ups. SHIPHYPE also provides flexible inventory management solutions tailored to your specific needs. We track inventory levels and ensure that all your orders are fulfilled accurately.
Returns Processing
We understand that returns are inevitable in e-commerce, and your customers need a hassle-free return experience. SHIPHYPE provides a streamlined process for handling customer returns quickly and efficiently, so you don't need to worry about it.
No Minimum Commitments
SHIPHYPE has no minimum commitments, so you can start using our services whenever you want. We also offer competitive rates to get the best value for your money. We provide excellent customer support and are always here to answer your questions or concerns. Our team is knowledgeable, friendly, and always ready to help.
At SHIPHYPE, we strive to provide our customers with the best service possible and take pride in custom solutions that meet their unique needs. Whatever your Amazon fulfillment needs may be, SHIPHYPE is here to help! Contact us today to learn more about how SHIPHYPE can help you take your business to the next level.
Request a quote
Enter your details below and we'll be in touch to learn more about your ecommerce business.
Don't like forms?
Email Us:
[email protected]