Looking to Outsource Order Fulfillment to a 3PL?
Advantages of Using a Pick And Pack Service in Ontario
Using pick-and-pack order fulfillment services in Ontario can bring numerous advantages to your business. In today's fast-paced world, customers expect timely delivery and efficient order processing. By utilizing a professional pick-and-pack process, you can ensure that your products are delivered promptly and accurately, making your customers happy while increasing overall efficiency.
Streamlined Order Fulfillment
A pick-and-pack service in Ontario can help streamline your order fulfillment services. With their expertise and specialized equipment, they can quickly and accurately pick the right products for each order, reducing the chances of errors or delays. This means you can fulfill orders faster and more efficiently, keeping your customers satisfied.
No Overhead Costs
By using a pick-and-pack service in Ontario, you can avoid the overhead costs of maintaining your warehouse and staff. This can save you money on rent, utilities, equipment, and employee salaries. By outsourcing your efficient order fulfillment process, you can focus on other aspects of your business while ensuring the timely and accurate delivery of your products.
Excellent Environment for Storage
Another advantage of using a pick-and-pack service in Ontario is the excellent storage environment they provide. With climate-controlled warehousing services and secure inventory management systems, your products will be stored safely and optimally. This can help preserve the quality of your products and reduce the risk of damage or spoilage.
Market Expansion
Outsourcing your order fulfillment to a pick-and-pack service in Ontario can also help you expand your market reach. With their efficient and reliable services, you can easily ship products to customers across the country or even internationally. This can open up new opportunities for growth and increase your customer base.
Services Offered by Pick And Pack Companies in Ontario
Pick and pack services are more than just a means to an end; they are a comprehensive solution designed to tackle the most complex aspects of order fulfillment. In Ontario, these companies offer services beyond the simple picking and packing of goods.
Many eCommerce businesses leverage these services to manage logistics and streamline their supply chain management. Some of the key services offered by pick and pack companies in Ontario include:
Custom Packaging Solutions:
With the rise of eCommerce, packaging has become an important aspect of branding and customer satisfaction. Pick-and-pack companies in Ontario offer customizable packaging solutions to help your products stand out and make a lasting impression on customers.
Inventory Management and Reporting:
Pick and pack companies in Ontario use advanced inventory management systems to ensure accurate and real-time tracking of your products. This can help you stay on top of your inventory levels, avoid stockouts, and make informed decisions about restocking.
Return and Exchange Management:
Handling returns and exchanges can be a time-consuming process for eCommerce businesses. Pick and pack companies in Ontario offer established processes for managing returns and exchanges, saving you both time and money.
Multi-Channel Fulfillment:
With the rise of omnichannel selling, it has become crucial for businesses to offer a seamless experience across multiple sales channels. Pick and pack companies in Ontario have the infrastructure and technology to fulfill orders from various channels seamlessly.
Things To Consider When Looking for a Pick And Pack Service Provider
When you're on the lookout for a pick-and-pack service provider, it's essential to find a partner who truly grasps your business requirements and is adept at navigating the intricacies of order fulfillment. SHIPHYPE, a well-regarded name in the industry, stands out as a dependable choice.
As you commence your search, it's vital to bear in mind several crucial factors to guarantee you select the optimal fit for your business.
Security Measures:
Ensure the pick and pack service provider has robust security measures to protect your products. SHIPHYPE employs stringent security protocols to safeguard your inventory, giving you peace of mind.
Environmental Considerations:
In today's eco-conscious world, sustainability matters. Inquire about the provider's approach to eco-friendly practices. SHIPHYPE is committed to sustainable operations and offers environmentally responsible packaging options.
Additional Services and Value-Additions:
Some pick and pack service providers may offer extra services to enhance your fulfillment experience. Explore any additional services provided by the company. SHIPHYPE offers value-added services, such as kitting and assembly, to further support your business.
References and Reviews:
Seek out feedback from other businesses that have used the pick and pack service provider. Positive reviews and references can provide valuable insights into the provider's reliability and performance. SHIPHYPE takes pride in its satisfied client base and is happy to share testimonials.
Does Your Business Need a Pick And Pack Service Ontario Provider?
If your business sends out products to customers, a pick and pack service provider in Ontario could be incredibly useful. They take care of tasks like choosing the right items and packing them securely for the shipping process.
This can save you time and effort, letting you focus on other important aspects of your business. Plus, if you're looking for a reliable option, SHIPHYPE is a trusted name in this field. We understand the needs of businesses like yours and have a solid track record in handling order fulfillment.
Differences Between Pick and Pack Service Provider and Shipping Carrier
A Pick and Pack Service Provider is different from a Shipping Carrier. The pick and pack provider is responsible for selecting and packing your products, often offering additional services like inventory management and custom packaging.
In contrast, a shipping carrier is in charge of transporting your packages from your fulfillment center to the customer's doorstep. While pick and pack providers focus on preparing orders, shipping carriers handle the actual delivery process.
Why Choose SHIPHYPE For Pick And Pack Services in Ontario?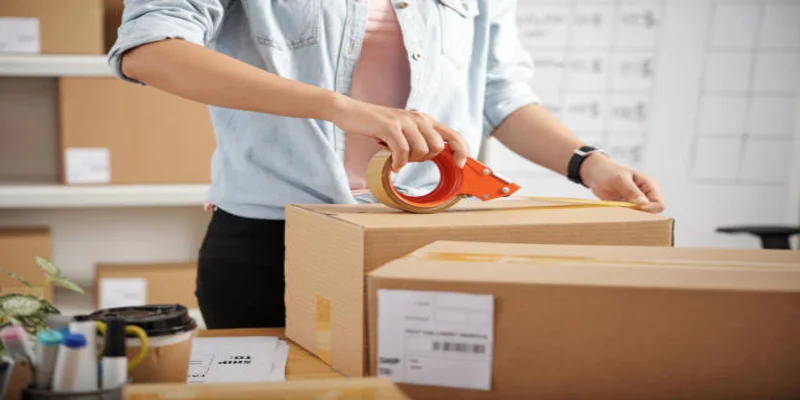 At SHIPHYPE, we understand the importance of efficient logistics and a streamlined business supply chain. That's why we offer top-notch pick and pack services in Ontario to help businesses manage their operations effectively.
Our extensive range of services caters to the diverse needs of our clients, making us a reliable partner for all your fulfillment needs. Some reasons why you should choose SHIPHYPE for pick and pack fulfillment services in Ontario are:
Real-Time Automation and Tracking:
At SHIPHYPE, we utilize advanced inventory management systems that allow for real-time automation and tracking of your products. This ensures accurate inventory levels and reduces the risk of stockouts.
Customized Solutions:
We understand that every business is unique and has different fulfillment needs. That's why we offer customized solutions tailored to your specific requirements. Our team works closely with you to understand your business and provide personalized services that meet your expectations.
Cost-Effective:
Managing inventory, picking and packing orders, and shipping them out can be time-consuming and costly. With SHIPHYPE's pick-and-pack services in Ontario, you can save on storage costs, packaging materials, labor costs, and more.
Scalability:
As your business grows, your fulfillment needs will also grow. With SHIPHYPE's pick and pack services, you can easily scale up or down depending on your business demands without any hassle. This flexibility ensures efficient management of your inventory at all times.
Request a quote
Fill the form below and our sales team will be in touch.
Don't like forms?
Email Us:
[email protected]