Looking to Outsource Order Fulfillment to a 3PL?
Advantages Of Using A Retail Fulfillment California
Retail Fulfillment California is an excellent option for businesses outsourcing their fulfillment operations. With their experienced team, they can provide you with the best logistics services and assistance with the entire fulfillment process. They specialize in delivering third-party fulfillment centers in California with the expertise and resources to meet your needs.
Their fulfillment services include inventory stocking, order processing, shipping, packaging, labeling, and returns management. They will work with you to ensure the entire process is managed efficiently. Their commitment to providing excellent service means they strive for timely delivery of products and reliable tracking to provide the best customer experience possible.
Benefits Of Working With A Retail Fulfillment California
At Retail Fulfillment California, we understand that running a successful retail business can be tricky. That's why they offer their clients the best in order fulfillment and shipping benefits to make the job easier. Here are some of the top benefits of choosing us for your commerce fulfillment needs:
Exceptional Service:
At Retail California fulfillment centers, they strive to provide our clients with unrivaled customer service. Their team is knowledgeable, friendly, and available 24/7 to answer questions or solve problems quickly and efficiently.
Streamlined Processes:
They make sure that your order fulfillment process is stress-free. Their team of experts has developed an efficient system that allows us to quickly and accurately fulfill orders, so you can rest assured that your customers will always receive their products on time.
Quality Assurance:
Their fulfillment warehouse quality assurance team inspects each product before it is shipped out, ensuring that all your items meet the highest standards. They also have a secure storage system that prevents any damage or theft.
Services Offered By Retail Fulfillment California
At Retail Fulfillment California, they provide our clients with customized eCommerce solutions to help them streamline their fulfillment processes. Their services are designed to be client-centric and tailored to the specific needs of each business.
Order Fulfillment:
They manage all aspects of order fulfillment, from receiving, inspection, picking/packing, and shipping. Their team ensures the accuracy and timely delivery of your orders. a California fulfillment center is dedicated to providing quality service for every client.
Inventory Management:
They offer a range of inventory solutions, including inventory control, stockroom design, cycle counting, and reconciliation. For the eCommerce business, they provide efficient and organized inventory systems that help you monitor your stock levels.
E-commerce Solutions:
They provide customized eCommerce solutions to businesses, from setting up an online store to order fulfillment integration. Fulfillment company Retail Fulfillment California is uniquely qualified to provide eCommerce solutions that help streamline and optimize the customer experience.
Things To Consider When Looking For A Retail Fulfillment California Provider
When looking for a Retail Fulfillment California provider, it is essential to consider several key factors. Here are some things to consider when selecting a Retail Fulfillment California provider:
Shipping and Delivery:
When searching for a reliable Retail Fulfillment California provider, consider the shipping and delivery process they offer. Do they offer same-day delivery? Are their shipping methods reliable and cost-efficient? Consider these questions when reviewing potential providers.
Storage Capabilities:
E-commerce businesses require a reliable storage solution to manage their business operations. Look for a Retail e-commerce Fulfillment California provider with the capacity, features, and scalability you need.
E-commerce Integration:
Look for a Retail Fulfillment California provider that seamlessly integrates your online store, whether custom-built or third-party platforms. This will make your eCommerce fulfillment process much more efficient and cost-effective.
Does Your Business Need A Retail Fulfillment California Provider?
If you are a business in California looking to provide fulfillment services, the answer is yes! Retail Fulfillment California can provide your company with top-notch services that will help drive sales and keep customers happy. Their experienced staff offers everything from order processing and warehousing to shipping and delivery, allowing your business to focus on what matters generating sales.
With their online tracking and reporting capabilities, you can always stay up-to-date on the latest retail fulfillment trends. Their knowledgeable team is here to provide any assistance to satisfy your customers and ensure their orders arrive quickly and correctly.
Differences Between Retail Fulfillment California And B2C Fulfillment
Retail Fulfillment California and B2C fulfillment are two distinct types of services that provide various logistical solutions for those looking to achieve successful e-commerce operations. Retail Fulfillment California specializes in providing personalized services tailored to individual retail stores. The Retail Fulfillment California team takes the unique needs of each store into account to ensure that they have a smooth and successful supply chain process.
On the other hand, B2C fulfillment services are more automated and provide a more generalized solution for e-commerce operations. B2C fulfillment services feature numerous warehouses, a network of service providers, and automated processes designed to streamline the supply chain process efficiently.
What Type Of Companies Look For Retail Fulfillment California?
Retail Fulfillment California provides comprehensive solutions for companies looking to maximize their retail sales. Here are some types of companies who look to Retail Fulfillment California:
E-commerce firms:
E-commerce companies often require the help of a fulfillment partner to manage efficient order processing, packaging, and shipping. Companies can rely on Retail Fulfillment California to ensure orders are timely processed, and customers quickly receive their products.
Multichannel retailers:
Multichannel retailers frequently look for a reliable partner in California to help them manage their inventory across different locations. Retail Fulfillment California can provide the necessary resources and expertise to ensure seamless operations for retailers selling through multiple channels.
Grocery stores:
Grocery stores can depend on Retail Fulfillment California to streamline processes, reduce costs, and increase customer satisfaction. With the help of a California-based partner, grocers can manage their inventory and store operations more efficiently.
Streamline Your Supply Chain By Partnering With SHIPHYPE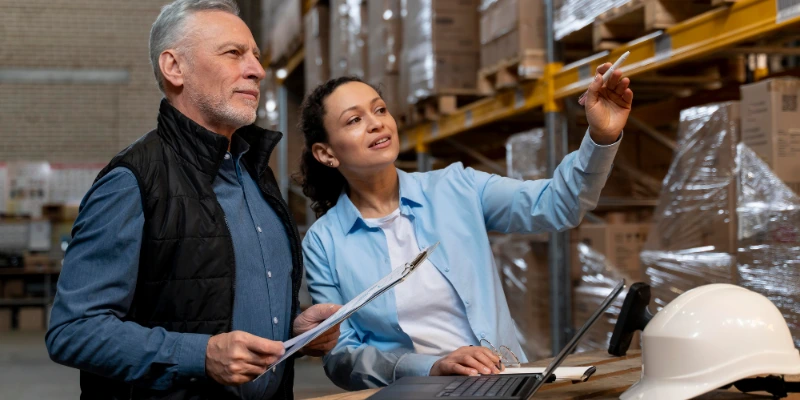 As an e-commerce business owner, streamlining your supply chain and staying on top of inventory is critical to the success of your business. SHIPHYPE in Retail Fulfillment California provides a comprehensive, integrated fulfillment service to help you achieve these objectives and grow your business.
Comprehensive Fulfillment Solutions:
With SHIPHYPE, you'll have access to an extensive range of services. Their experienced team ensures that your orders are processed quickly and accurately so that they arrive at their destination in pristine condition. So that you can provide a superior customer experience.
State-of-the-art Technology:
SHIPHYPE utilizes best-in-class technology for maximum efficiency and accuracy. Their software is designed to automate the order fulfillment process, reducing manual labor and increasing speed and accuracy so that you can focus on growing your business.
Flexible and Scalable Services:
SHIPHYPE offers customized solutions tailored to meet the needs of your business. Their services are highly scalable and can be adjusted to accommodate any changes in demand or growth because they understand that your business needs may change over time.
Request a quote
Fill the form below and our sales team will be in touch.
Don't like forms?
Email Us:
[email protected]