Looking to Outsource Order Fulfillment to a 3PL?
Advantages Of Using A 3PL In The USA
Third-party logistics company bridges the industries and customers, who take care of all the transportation, logistics, and fulfillment services. 3PL Fulfillment USA is a well-known third-party logistics provider in The United States with vast experience in supply chain management, eCommerce business, and international shipping.
E-commerce businesses can benefit from third-party logistics companies Fulfillment USA's transportation services and freight forwarding. 3PL Fulfillment USA offers a wide range of services to help streamline your logistics operations, reduce costs, and increase efficiency. The advantages of using A 3PL in the USA include:
State Of The Art Infrastructure
3PL has an extensive network of warehouses, distribution centers, and other facilities spread across the United States, enabling efficient order fulfillment. The company's modern and advanced infrastructure enables it to handle large at a fraction of the cost compared to traditional logistics solutions.
Inventory Management & Warehousing
From supply chain management to inventory optimization, Third party logistics services offer a comprehensive range of services for both inbound and outbound logistics operations. The company uses the latest technology to ensure accuracy and quick turnaround time when managing your inventory.
Order Fulfillment & Shipping Solutions
3PL Fulfillment USA provides an array of order fulfillment and shipping solutions tailored to meet your business's needs. From order processing and pick & pack services to delivery and returns management, 3PL has got you covered.
Benefits of Working With A 3PL In The USA
Most third-party companies in the USA are known for their expertise and commitment to delivering high-quality service. When you work with any 3PL Fulfillment USA, you're assured of the following:
Faster & Efficient Delivery Of Goods
No more waiting for orders to arrive from overseas. With 3PL, your goods are routed directly from its warehouses close to your customers, making getting products out of the door quick and easy.
Cost Savings
3PL transportation and logistics services can reduce the cost of managing your distribution operations. With 3PL, you don't need to invest in expensive infrastructure or personnel for packing and shipping orders.
Enhance Brand Reach
3PL fulfillment in the USA can help you expand your reach and ensure products are available in multiple locations. You can also save time and money by managing inventory levels with 3PL, allowing you to focus on making great products and growing your customer base.
Tremendous Fulfillment Capabilities
Third-party logistics providers offer highly automated, tightly integrated fulfillment solutions that enable you to scale quickly and efficiently. This can help you save time, reduce errors, and improve customer satisfaction. Plus, 3PLs can access the latest technologies for faster order processing and greater accuracy.
SHIPHYPE is one of the most powerful 3PLs on the market, helping businesses worldwide reach their fulfillment goals. With SHIPHYPE, you get industry-leading order management and automation capabilities, real-time tracking and reporting, advanced warehouse management systems, and more.
Things To Consider When Looking For A 3PL Fulfillment In The USA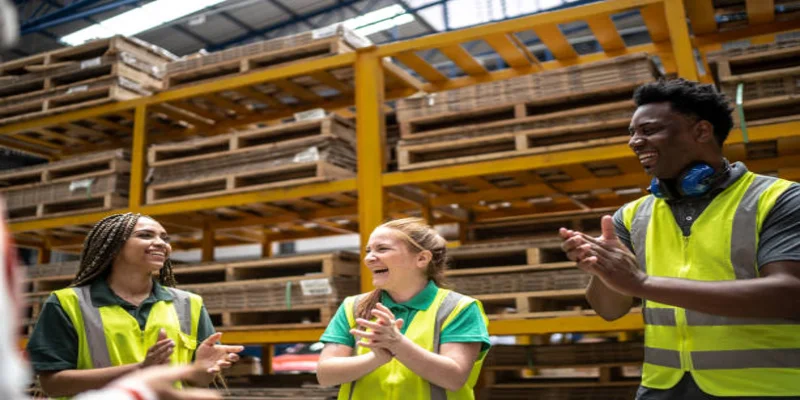 When running a business in the USA, one of the most important decisions you'll make is choosing a 3PL (third-party logistics) fulfillment provider. A good 3PL can help streamline your operations, improve delivery times, and boost your bottom line. However, with so many options out there, it can be tough to know where to start. Here are some things to consider when looking for an eCommerce 3PL provider:
Experience And Expertise
Look for a provider with experience in eCommerce logistics, as they will understand the unique needs and challenges of online businesses. Ideally, they should have expertise in your specific industry or niche and knowledge of the markets you serve.
Technology
Your 3PL provider should have the right technology and software to streamline processes, improve efficiency, and provide real-time tracking and reporting. Look for a provider that uses the latest technology to optimize their operations.
Fulfillment Options
Different 3PL providers offer other fulfillment options, such as pick and pack, kitting, and assembly. Ensure the chosen provider can handle your specific needs and that their processes align with your business model.
Location
The location of your 3PL provider is also important. Look for a provider near your customers to reduce shipping times and costs.
Customer Service
The quality of customer service provided by your 3PL provider is crucial. Look for a provider that offers responsive, knowledgeable, and friendly support, as this can make all the difference in your business operations.
Does Your Business Need A 3PL Fulfillment In the USA?
If you are a small to mid-sized business in the USA selling products online, you will likely benefit from working with a 3PL.
These providers can help streamline your operations and reduce costs, allowing you to focus on more important aspects of your business, such as customer service and product development. Your business can become more efficient, cost-effective, and ultimately more successful with the right provider.
Differences Between 3PL Fulfillment USA And Traditional Log
Using a 3PL for your business in the USA can be much more efficient and cost-effective than traditional logistics. These providers are experts in their field, with the resources and technology to effectively manage all aspects of order fulfillment. They will take on the burden of product storage, inventory management, warehousing, packing, shipping, and returns processing, freeing up your team to focus on others.
On the other hand, traditional logistics providers are not optimized for the e-commerce sector. They lack the technology and expertise to manage your fulfillment needs effectively, and costs can quickly spiral out of control. Cost savings come from their bulk business model, meaning they are designed to provide a service based on high-volume shipments rather than individual orders.
What Type of Companies Look For 3PL Services In The USA?
Numerous companies benefit from 3PL services in the USA, each with unique needs. These include online retailers, e-commerce stores, startups, and established businesses that ship various items. Whether you're sending small packages or large pallets across the country, 3PL can help reduce shipping costs and simplify logistics for your business.
In addition to online and traditional businesses, 3PL services have become increasingly popular among companies specializing in equipment and hazardous materials. Companies with these shipments often have specialized handling from a skilled third-party logistics provider.
SHIPHYPE is an experienced 3PL provider that offers comprehensive services in the USA at competitive pricing. Their team of logistics experts has the know-how to select the best carriers and routes for your shipment to ensure it arrives on time and in perfect condition.
Why Choose SHIPHYPE?
SHIPHYPE is a leading third-party logistics (3PL) provider specializing in eCommerce fulfillment and shipping services. You should consider choosing SHIPHYPE as your 3PL provider for many reasons. Here are some of the key benefits of working with SHIPHYPE:
Expertise in eCommerce
SHIPHYPE has a deep understanding of eCommerce logistics, and they offer a range of services specifically tailored to the needs of online businesses. They can help you streamline your operations, reduce shipping times and costs, and improve your overall customer experience.
Scalability
SHIPHYPE is designed to grow your business. They offer flexible solutions that accommodate businesses of all sizes, from small startups to large enterprises. As your sales volume increases, they can easily scale up their services to meet your needs.
Advanced Technology
SHIPHYPE uses the latest technology to optimize its fulfillment and shipping processes. They offer real-time tracking and reporting, automated order processing, and integration with popular eCommerce platforms such as Shopify, WooCommerce, and Amazon.
Multiple Fulfillment Centers
SHIPHYPE has multiple fulfillment centers strategically located across the United States. This means your orders can be shipped quickly and cost-effectively to customers anywhere in the country.
If you are looking for a reliable fulfillment and shipping partner in the USA, look no further than SHIPHYPE. Their advanced technology, multiple fulfillment centers, and flexible pricing make them ideal for your eCommerce needs. Contact us for more information.
Request a quote
Fill the form below and our sales team will be in touch.
Don't like forms?
Email Us:
[email protected]