Looking to Outsource Order Fulfillment to a 3PL?
Advantages Of Using A 3PL Logistics
Using a third-party logistics provider can bring numerous Advantages to your business. 3PL providers offer advanced inventory management and supply chain management solutions that help streamline logistics operations and reduce costs. They provide valuable transportation services for shipping products to worldwide destinations cost-effectively.
Third-party logistics providers have the expertise and experience to help businesses save money on cost savings and improve efficiency. They can also customize a logistics solution that meets the unique needs of your business. Through their innovative technologies, 3PL providers can provide real-time tracking and traceability of packages and automated shipping processes. This helps companies to maintain control over their supply chain while reducing shipping costs.
Benefits Of Working With A 3PL Logistics.
Working with a 3PL Logistics provider can offer businesses of all sizes many benefits. Here are the benefits your company can gain from a 3PL Logistics provider:
Flexibility:
3PL Logistics companies can provide customized services that meet the unique needs of your business. Whether you need to outsource parts of your supply chain operations or increase capacity and scalability, they can help. You can be sure your processes will have the flexibility to adapt to altering market conditions.
Greater Efficiency:
3PL Logistics companies employ the latest technology to ensure a smooth, seamless, and efficient logistics process. This helps to save time, increase productivity, and decrease costs associated with manual labor so that you can obsession with other aspects of your business.
Global Reach:
With their expansive international supply chain network, 3PL Logistics providers offer an unbeatable global reach. Whether you need to ship goods to Europe, the Middle East, or anywhere else, they can help. So you can reach even more clients and grow your international customer base.
Services Offered By 3PL Logistics.
3PL Logistics offers various services to businesses seeking to outsource their supply chain control and logistics operations. Here are the best services they provide:
Fulfillment and Warehousing:
3PL Logistics provides fulfillment services that include inventory management, order processing, pick and pack services, returns management, and more. Their warehousing solutions offer secure storage space with efficient distribution capabilities.
Transportation Management:
3PL Logistics also specializes in efficient transportation management for all types of shipments. They provide end-to-end logistics solutions from ground delivery to air freight with tracking capabilities and real-time visibility so you can always stay on top of shipments.
Customs Brokerage:
With decades of experience in the industry, 3PL Logistics is experienced in handling all aspects of customs clearance procedures for domestic and international orders. They work diligently to secure that all paperwork, documentation, and regulations are on time.
Things To Consider When Looking For A 3PL Logistics Provider
When finding the right 3PL logistics provider, there are a few key factors to consider. Here are some legendary things to keep in mind:
Choose the Right Logistics Provider:
When deciding on a 3PL logistics provider, it's essential to consider what type of service they provide and if they can meet your needs. Be sure to research their experience and customer reviews, and ask for samples of work they have completed before deciding.
Evaluate Their Warehouse Space:
Evaluating the provider's warehouse space is essential when looking for a 3PL logistics provider. Ensure they offer the storage type you need and the necessary infrastructure and equipment. The freight forwarders must have suitable organizational systems to help keep their inventory organized and safe.
Assess Reverse Logistics Capabilities:
Reverse logistics is essential in any supply chain process, so assess the provider's ability to manage reverse logistics. Ask about their capabilities for returns, repairs, and recycling services. With 3PL entire supply chain must be taken into consideration.
Does Your Business Need A 3PL Logistics Provider?
If anyone runs a business and needs to manage inventory and transportation, you may wonder whether you should hire a 3PL Logistics Service Provider. The answer is yes! Third-party logistics 3PL Logistics Service Providers offer a comprehensive range of services from logistics and transportation services, warehousing, and order fulfillment to multiple fulfillment centers throughout the country.
By outsourcing some or all of your logistics needs to a 3PL Logistics Provider, you'll have access to their cutting-edge technology and expertise. They can provide real-time tracking information, automated inventory management solutions, advanced order processing systems, and various other features to help you streamline your entire logistics process.
Differences Between 3PL Logistics Provider And 4PL Logistics
3PL providers typically manage the warehousing and distribution of goods. They are responsible for overlooking the transportation of goods, including shipping, storage, tracking, and delivery of products. 3PLs often take on the responsibility of inventory management, order fulfillment, and customer service. So businesses can focus on other characteristics of their business.
On the other hand, 4PL providers go beyond just managing transportation and warehousing of goods. They provide integrated logistics solutions to optimize a company's supply chain process from beginning to end. This includes warehouse management, customs clearance, inventory control, and freight forwarding.
What Type Of Companies Look For 3PL Logistics?
3PL Logistics is a highly sought-after service among companies of all sizes and industries. Here are the types of companies that look for 3PL Logistics solutions:
Retailers:
Many retailers rely on third-party logistics companies to help them manage the shipping and delivery of goods, as they often handle large volumes of orders. 3PLs can provide warehousing services, inventory control, and order fulfillment processes essential for successful eCommerce businesses.
Manufacturers:
For manufacturers, 3PLs can provide supply chain management services. These services include product sourcing, transport management, and global distribution. By outsourcing these processes to a third-party logistics company, manufacturers can save time and money while improving efficiency in their operations.
Wholesalers:
Wholesalers use 3PLs to manage their supply chain logistics, including inventory management and order fulfillment. 3PLs can help wholesalers manage their logistics operations more effectively and efficiently by providing warehousing, pick-and-pack, and shipping services.
Benefits Of Working With SHIPHYPE As Your Fulfillment Partner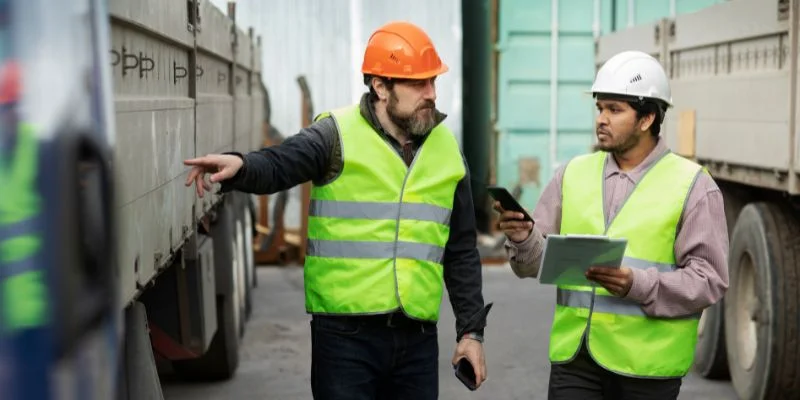 Enhanced Efficiency:
Working with SHIPHYPE's fulfillment center 3PL logistics team guarantees enhanced efficiency from start to finish. Their encountered professionals are trained in the latest trends and technologies that make shipping and fulfillment smoother and faster.
Scalability:
Whether you're just starting up and need a few packages shipped each month, or your company has grown, and you need thousands of orders processed, 3PL logistics services can help you scale quickly and easily without investing in expensive infrastructure or hiring more staff.
Increased customer satisfaction:
With a 3PL logistics provider, you can ensure orders are processed quickly and accurately. This will help you increase customer satisfaction by providing them with quality service and on-time deliveries. With SHIPHYPE's own warehouse, you can manage your inventory and even customize the packaging to fit each customer's individual needs.
Request a quote
Fill the form below and our sales team will be in touch.
Don't like forms?
Email Us:
[email protected]