Looking to Outsource Order Fulfillment to a 3PL?
Advantages Of Using A 3PL Fulfillment
Using third-party logistics fulfillment services is an excellent way to improve supply chain management efficiency and customer satisfaction. By outsourcing the delivery of products and services, businesses can secure time, money, and energy in managing the fulfillment process. With 3PL fulfillment centers, companies can better manage inventory management levels and control the costs associated with storage, shipping, and customer service.
The advantages of employing a 3PL fulfillment center include greater flexibility in dealing with customers, faster delivery times, improved tracking capabilities, and better control over inventory levels. Through this supply chain management method, businesses can save time and money on warehousing costs while simultaneously providing their customers with more accurate and timely delivery.
Benefits Of Working With A 3PL Fulfillment
Working with a 3PL Fulfillment company can benefit businesses of any size and type. Here are the advantages of working with a 3PL Fulfillment provider:
Increased Efficiency:
Working with a 3PL Fulfillment provider means you can delegate various logistical tasks, such as shipping and tracking. This allows your online store to focus on other critical aspects of running an eCommerce business, increasing efficiency and boosting productivity.
Reduced Shipping Costs:
When working with a third-party logistics 3PL Fulfillment provider, you can take advantage of the shipping discounts they have already negotiated for bulk orders to preserve money on your overall shipping costs without compromising on the quality of service.
Improved Customer Satisfaction:
Third-party logistics (3PL) fulfillment providers offer streamlined services to improve customer satisfaction. They ensure that orders arrive quickly and correctly by handling the fulfillment process.
Services Offered By 3PL Fulfillment
3PL Fulfillment offers a wide range of services that enable businesses to outsource their order fulfillment needs. Here is an overview of key services provided by 3PL Fulfillment:
Warehousing and Distribution:
3PL Fulfillment offers both warehousing and distribution services to ensure that your products promptly arrive at their destination. This includes packing, storing, and shipping your items according to customer orders and tracking them throughout the entire process.
Inventory Management:
3PL Fulfillment provides inventory management services to help you keep track of your products. They can accurately record all incoming and outgoing items, alerting you when stock levels are low, or an item needs reordering. So, you can rest guaranteed knowing that all your products are accurately tracked and accounted for.
Returns Management:
3PL Fulfillment's returns management system allows you to manage product returns and refunds easily. This includes handling customer inquiries, processing returns, and providing quality assurance on returned items. You don't have to worry about handling returns yourself.
Things To Consider When Looking For A 3PL Fulfillment Provider
When you're trying to determine which 3PL fulfillment provider is due for your company, there are several key considerations. Here is the best breakdown of the most critical factors:
Experience:
Before committing to a 3PL Fulfillment Provider, it's essential to determine how long they've been in business and the related experience they have with similar companies. Research their customer reviews and ask for any available references for feedback on their services.
Areas of Expertise:
Some 3PL Fulfillment Providers specialize in specific areas, such as order fulfillment, inventory management, warehousing, and logistics. Consider the company's expertise and how it can benefit your business when making a final decision.
Scalability:
If your business is increasing, finding a 3PL Fulfillment Provider that can scale with you is crucial. Look for companies that offer flexible solutions that can be adapted as needed, and make sure they are prepared to handle your business's increasing demand.
Does Your Business Need A 3PL Fulfillment Provider?
If you are an eCommerce business or company, considering using a third-party logistics provider for order fulfillment services? You may seek custom packaging, easy returns/refunds, and fast delivery options. If so, then a 3PL Fulfillment Provider may be precisely what your business needs.
A 3PL Provider can help you streamline and manage your order fulfillment process. They provide robust on-demand warehousing, inventory management, and shipping services to confirm you get the most out of your eCommerce companies. They also have a holistic approach to managing the supply chain, which includes cost savings benefits for their customers.
Differences Between 3PL Fulfillment Provider And 4PL
Third-party logistics (3PL) fulfillment companies specialize in storing and distributing eCommerce products. They provide warehousing, order fulfillment, reverse logistics services, inventory management, and transportation. 3PL is typically used by smaller eCommerce businesses with limited resources as a cost-effective way to outsource their supply chain processes.
On the other hand, a Fourth-Party Logistics (4PL) provider is a logistics integrator that coordinates and manages the entire fulfillment process. 4PL providers are well-versed in supply chain optimization and collaborate with various third-party services to deliver eCommerce products more efficiently. 4PL providers are typically used by large businesses looking for an end-to-end logistics solution to streamline their processes.
What Type Of Companies Look For 3PL Fulfillment?
There are various variety of different types of businesses that can benefit from 3PL fulfillment services.
For Brick & Mortar Stores:
For brick-and-mortar stores, 3PL fulfillment services can help reduce overhead costs and free up valuable resources. By relying on a third-party provider, stores don't have to worry about managing their warehouses or shipping processes, which can be time-consuming and costly.
For eCommerce Sites:
For online sellers, 3PL fulfillment services are essential for successful operations. With the help of a 3PL, eCommerce businesses can easily manage their inventory and quickly ship orders. This helps increase customer satisfaction and improves brand loyalty.
For All Companies:
Generally, 3PL fulfillment services provide a cost-effective way for companies to outsource their warehouse operations and shipping needs. Businesses can fetish their efforts and resources on core activities such as goods development, marketing, and client service by relying on a third-party provider.
Why Choose SHIPHYPE?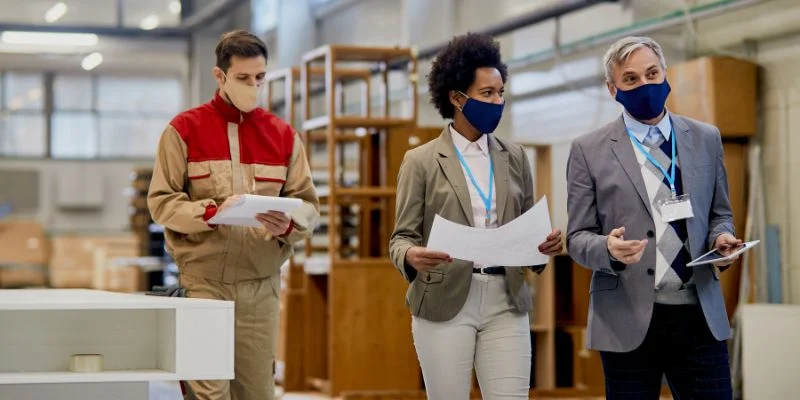 SHIPHYPE offers all the advantages you need to reduce costs accurately and deliver exceptional customer service. Here are the advantages you receive when you choose SHIPHYPE for your 3PL Fulfillment needs:
Scalable Solutions:
SHIPHYPE offers 3PL fulfillment services that are highly scalable and customizable, allowing you to easily adjust your order processing speed and storage capacity as your business grows. It is also possible to tailor our 3PL fulfillment services to the specific needs of your business.
Experienced Staff:
Their team comprises seasoned logistics experts with years of experience in the fulfillment industry, providing solutions tailored to your business needs. So you can rest confirm that your orders will be managed with the foremost care and attention.
High Level of Security:
Their 3PL fulfillment services are designed with advanced security protocols and encryption technologies to keep all your data safe and secure. So you can rest guaranteed that your orders will be delivered on time and securely.
Request a quote
Fill the form below and our sales team will be in touch.
Don't like forms?
Email Us:
[email protected]