Looking to Outsource Order Fulfillment to a 3PL?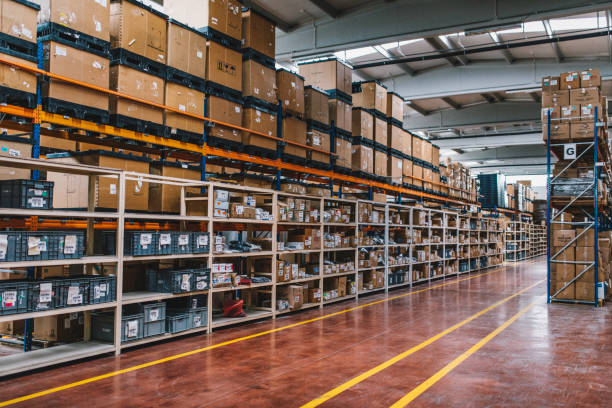 How Do 3PLs Connect With Bigcommerce?
Bigcommerce is a great platform for ecommerce businesses, and it's easy to see why so many businesses are using it. But when your business starts growing beyond the capacity of what Bigcommerce can handle, that's where 3PL companies come in.
3PL stands for Third-Party Logistics, which are companies specializing in taking over the logistics, shipping, and fulfillment of your ecommerce orders. Connecting big commerce with a 3PL company aid the business in many ways. It allows merchants to take their business to the next level without worrying about finding extra staff and resources. 3PL companies provide order fulfillment, inventory management, warehousing, transportation, and customer services. They can also manage returns and reverse logistics for businesses with high returns or need special handling for returns, like electronics.
SHIPHYPE's 3PL for Bigcommerce helps businesses streamline and simplify their ecommerce order fulfillment process. This includes providing real-time tracking information, automated emails to customers when their orders have been shipped, and easy integration with existing Bigcommerce stores.
Benefits of Outsourcing Bigcommerce Fulfillment Needs
If you are holding many orders daily, you must ensure that your orders are shipped on time and accurately. Outsourcing fulfillment needs to a 3PL company can help with this. A 3PL can provide a more efficient system than trying to keep up with the demand. Some of the benefits are:
Automate Your Process
A 3PL for Bigcommerce can automate your order fulfillment process with the click of a button. This means no more manually packing each order and sending out emails to customers. You can save time and energy by using a 3PL that automates the whole process, especially when you have high volumes of orders.
Increase Your Speed to Market
By outsourcing your Bigcommerce fulfillment needs, you can increase your speed to market. This means that you don't have to worry about waiting for orders to arrive or trying to coordinate multiple shipments across different locations. A 3PL will provide a faster and more efficient way of getting your products out the door and into the hands of your customers.
Increased Flexibility
Using a 3PL can provide you with increased flexibility when dealing with unexpected spikes in orders or changes to customer demands. A 3PL company can quickly adjust and reallocate resources according to the needs of your business so that you don't have to worry about missing out on potential sales.
SHIPHYPE's 3PL for Bigcommerce provides businesses with an easy and efficient way to outsource their ecommerce order fulfillment needs. By connecting your Bigcommerce store to SHIPHYPE's 3PL, you can quickly and easily set up automated order fulfillment processes that will save you time.
Things To Consider When Looking For 3PL
Bigcommerce stores must ensure that orders are fulfilled quickly and accurately, as customers expect their purchases to arrive on time. Shipping is essential to order fulfillment, so choosing the right third-party logistics provider for your business is critical. But with so many shipping options, it's hard to know which is best for you.
Every big commerce store is unique, so the best fulfillment process option for one store may not be right for another. Not every fulfillment option is created equal, and costs can vary from service to service. It's important to consider your inventory, budget, and shipping needs before choosing a fulfillment option. But before shipping big commerce products, bigcommerce merchants may be aware of some significant factors that should be considered when searching for a reliable 3PL
Allowable Package Size And Cost
Big-commerce store owners always look for logistics operations to save on shipping costs. The size of your packages can significantly affect the price it costs to ship them. We at SHIPHYPE pack products as efficiently as possible to keep costs down and use the smallest box size you can get away with. We offer flat-rate shipping for Bigcommerce stores, and you can get real-time quotes from our platform to determine the cost of shipping orders.
Shipping Time
Customers must receive their orders on time. Shipping times vary from service to service, so research shipping options and find fulfillment centers that work best for your store. Also, you should remember the type of product you're selling; some items may require longer shipping times than others.
Save Handling
To ensure your products are shipped safely, using the right packing materials for each item is important. Quality packaging can help protect your products from damage and keep customers happy. When shipping big commerce products, investing in the right packaging materials can save time and money.
Legal Requirements
When shipping products, it's important that A 3PL company must be aware of applicable laws and regulations. Every country has different customs laws and regulations, so research before shipping overseas. This will help ensure a smooth delivery process and avoid any potential legal issues down the line.
If you are new to the shipping world and have few resources, you can use 3PL for Bigcommerce services like SHIPHYPE. We inform customers of their order status and provide free shipping on orders, and we also use our print shipping labels to get the product out in time. We can also help you with inventory management and selling processes, so you can easily manage your bigcommerce store.
Why Choosing SHIPHYPE Help Your Bigcommerce Store?
SHIPHYPE is not the only 3PL provider, but we offer various services that make us stand out from the competition. Our experienced staff can work with you to ensure fast and secure shipping for your customers. We also provide insights into market trends and customer preferences so that you can better serve them. Additionally, our inventory management system helps you track product stock levels and manage returns. With SHIPHYPE, you get the best package solutions that save time and money.
We understand your unique needs and pride ourselves in delivering quality services. We provide:
Seamless Integration
Our integration services seamlessly connect your Bigcommerce store with our fulfillment system. This allows you to have a real-time view of your inventory and order status, so you can quickly respond to customer inquiries.
Custom Packaging
Every product requires unique packaging to ensure its safe delivery. We provide custom packaging services based on the size and weight of your item, so you can be confident that they arrive in perfect condition.
Cost-efficient Delivery
We offer cost-efficient delivery options for customers to choose from. You can select the best shipping option that fits your budget, so you can maximize your profits without compromising on quality.
Secure Inventory Storage
With the tremendous growth of online stores, security for stored items is a major concern. We provide secure storage for your inventory and ensure that all items are tracked to avoid loss or theft.
We understand the complexities of managing an eCommerce business, which is why we strive to provide our clients with the best possible services. Our passion drives us to help you reach your goals and make your store successful. So, if you're looking for the best 3PL provider for your Bigcommerce store, choose SHIPHYPE and take advantage of our reliable services. We are here to help you reach new heights and achieve success! Reach out to us today to learn more about how we can help.
Request a quote
Fill the form below and our sales team will be in touch.
Don't like forms?
Email Us:
[email protected]