Looking to Outsource Order Fulfillment to a 3PL?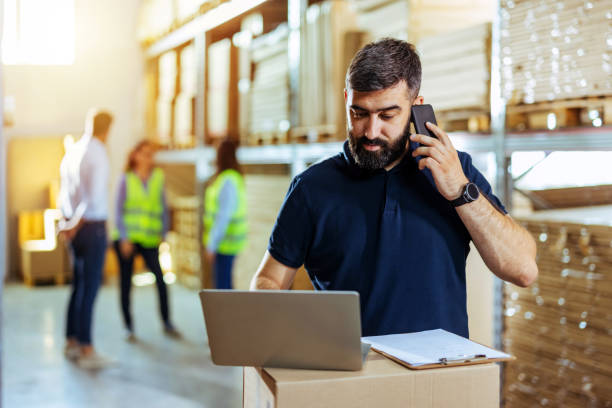 Things To Consider When Wholesale Shipping Orders
Wholesale dealers can benefit greatly from using third-party logistics (3PL) companies. 3PLs make it easier for ecommerce businesses to manage their supply chains and shipping costs. They provide inventory management, order fulfillment services, and even the ability to set up your own warehouse if needed.
There are a few things to consider regarding wholesale shipping orders. First, ensure your 3PL company can promptly provide large volume shipping labels. This will allow you to get instant access and tracking numbers for each order that is placed. Some other factors that wholesale dealers must know include the following:
Legal Requirements
If you choose a third-party logistics company to handle your wholesale orders, ensure they understand each state's legal requirements. This is important to ensure that taxes are collected and that all paperwork is filled out correctly.
Costs
Be aware of the distribution costs associated with any 3PL company you use. Shipping labels should be reasonably priced to send bulk orders without breaking the bank.
Support
Make sure the 3PL company you choose can provide support for any shipping questions or concerns that may come up. It's important to have a reliable source of help when dealing with wholesale orders. This can save time and money in the long run.
Overall, third-party logistics companies can be a great asset to wholesale dealers. They can help reduce shipping costs, provide timely access to tracking numbers, and even allow you to set up your warehouse if needed. SHIPHYPE is a leading 3PL company that provides supply chain solutions for wholesale businesses of all sizes.
Does Your Wholesale Business Need Third-Party Logistics?
It is a need of time to partner with a 3PL company that provides efficient and cost-efficient supply chain management solutions. A third-party logistics (3PL) provider can differentiate between success and failure for your online business, especially regarding order fulfillment. Some of the benefits of using a 3PL company include the following:
Increased Efficiency
When managing large wholesale orders, third-party logistics companies can help streamline the process and ensure everything is done in a timely manner. This can save time and money for your online business.
Enhance Your Brand Appearance
Using a third-party logistics company can help enhance the overall appearance of your brand. It shows customers that you are up to date with current trends and can manage orders quickly and accurately.
Reduce Shipping Costs
By partnering with a 3PL provider, you can use their discounted shipping rates and save money on shipping labels. This allows you to pass on the savings to your customers and help increase profits simultaneously.
Overall, partnering with a 3PL company is a great way for wholesale dealers to reduce shipping costs, streamline order fulfillment processes, and enhance the overall appearance of their brand. With SHIPHYPE's reliable supply chain management solutions, you can ensure your wholesale orders are processed quickly and efficiently. Contact us today to find out more!
What Are The Differences Between Wholesale And Retail 3PL?
The main difference between wholesale and retail 3PLs is in their services. While both offer shipping labels, order fulfillment, inventory management, and warehouse setup, they serve different businesses. Wholesale 3PLs specialize in bulk orders from wholesalers to consumers or retailers.
On the other hand, retail 3PLs provide more personal services for retail businesses, such as personalized packaging and labeling, store setup, and customer service. Due to their size, the cost of working with a wholesale 3PL is often lower than that of a retail 3PL. They usually offer discounts on shipping labels and other services since they process large orders in bulk.
SHIPHYPE offers both wholesale and retail 3PL services. We specialize in helping wholesalers streamline their order fulfillment processes. If you're looking for a reliable 3PL provider, look no further than SHIPHYPE.
Services Offered by Wholesale 3PL Providers?
When it comes to working with a wholesale 3PL provider, there are many services you can take advantage of. These include
Automated Inventory Management
Managing large orders can be a daunting task, but with the help of a 3PL provider, you can automate tasks like inventory management and order tracking. This allows you to save time and money when managing your wholesale store.
Quick Access to Tracking Numbers
With a 3PL provider, you can easily access tracking information for each order. This lets you keep customers informed and ensure they receive their parcels promptly.
Warehouse Setup
A wholesale 3PL company can also help you set up your warehouse. This is especially helpful if you're planning to expand your business or need more space for inventory. Multiple warehouse channels make it easier for you to manage and distribute your products.
Shipping Labels
When it comes to ordering fulfillment, having access to shipping labels is essential. With a 3PL company, you can get discounted shipping labels, which helps to reduce your overall costs.
At SHIPHYPE, we understand the importance of efficient order fulfillment for online businesses. We offer various services to help wholesale dealers streamline processes and enhance their store's performance.
Why Choose SHIPHYPE As Your Fulfillment Partner?
There are numerous 3PL solutions, but SHIPHYPE stands out from the pack. With our wide array of services and commitment to customer satisfaction, we're perfectly positioned to help you ship your products quickly and efficiently.
Regarding wholesale orders, SHIPHYPE offers an impressive range of features that can help make the process faster and more efficient. The services we offer include the following:
Tremenoudous Customer Service
For multiple customer places, SHIPHYPE offers unparalleled customer service. Our team of knowledgeable agents can help you tackle any issue and provide the best possible solution for your business. Plus, our support staff is available 24/7, so you can get assistance anytime, day or night.
Flexible Fulfillment Solutions
SHIPHYPE offers a variety of fulfillment solutions for wholesale orders. From cost-effective warehousing to fast turnaround times, we can customize our services just for you and ensure that your products are delivered on time and within budget.
Affordable Shipping Rates
We understand that shipping costs can consume a huge portion of your profits. That's why SHIPHYPE offers competitive and affordable shipping rates to help you keep more of your hard-earned profits. We also offer discounts for repeat customers so that you can save even more.
Security and Safety
At SHIPHYPE, we take security seriously. Our facilities are monitored 24/7 by trained security staff, and our warehouses are equipped with the latest technology to ensure that all packages are delivered safely and securely.
No matter what kind of wholesale orders you're dealing with, SHIPHYPE can help make the entire process easier, faster, and more efficient. Let us be your go-to provider for all your 3PL needs and take your business to the next level. Contact us today to learn more about how SHIPHYPE can help you.
Request a quote
Fill the form below and our sales team will be in touch.
Don't like forms?
Email Us:
[email protected]