Looking to Outsource Order Fulfillment to a 3PL?
Things To Consider When Shipping Outdoor Products
Managing bulky outdoor gear such as tents, repair kits, cooking utensils, hydration containers, and canoes can be a nightmare for online merchants or fulfillment centers lacking the proper equipment to store and pack, let alone ship, these items. Without the right infrastructure, this poses an enormous challenge that needs addressing. Outdoor equipment business owners may consider working with a 3PL to handle the entire supply chain, from order fulfillment to shipping and freight costs.
SHIPHYPE leads the outdoor equipment fulfillment industry, offering cost-effective solutions tailored to outdoor goods to improve the customer experience significantly. The company safely stores these bulky items and offers value-added services such as order consolidation and tracking inventory levels. There are some important things that you need to know before shipping:
Package Size
As a trusted fulfillment partner in the outdoor equipment sector, SHIPHYPE understands that some of your items may come in bulkier packages and require careful packaging. That's why we offer various shipping options to accommodate any size package best.
Taxes And Duties
When shipping products internationally, knowing the applicable taxes and duties is important. SHIPHYPE manages customs clearance on your behalf, so you can rest assured that your orders will arrive at their destination without additional fees.
Cost Savings
SHIPHYPE offers seamless integration with major carriers worldwide, allowing us to provide cost-effective solutions and the best possible shipping rates. We work closely with our carriers to ensure your orders are delivered on time while reducing freight costs.
Customs Clearance
If you want to ship your products to international destinations, it's important to ensure they are cleared through customs. SHIPHYPE provides comprehensive support in this area, and our team of experts is on hand to ensure that your orders pass through customs with minimal delay.
Legal Documentation
Another area you should consider when shipping products internationally is the legal documentation required. SHIPHYPE can handle all this for you, saving you time and money. We will ensure that your orders comply with all relevant regulations, allowing them to pass through customs without issues.
At SHIPHYPE, we safely store and efficiently fulfill orders and provide the necessary tracking services to ensure your items arrive in perfect condition. We are committed to providing a hassle-free experience when managing your outdoor equipment business.
Products We Fulfill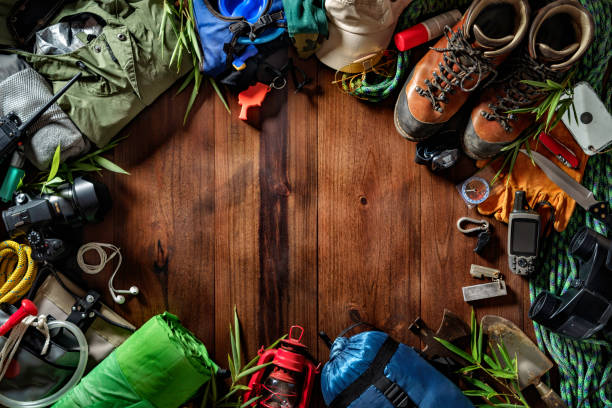 The market for outdoor equipment is vast and diverse, so we understand the importance of having a reliable partner that can store, pack and ship any item. Outdoor products are somewhat difficult to manage, but SHIPHYPE has the experience and expertise to handle anything from tents and canoes to camping stoves and repair kits.
We have the personnel and resources to store these items and provide efficient order fulfillment services safely. We understand that each client is unique and requires tailored solutions for their business needs. Here are some of the products that we can fulfill:
Camping Gear
Camping gear is a huge part of the outdoor equipment industry. From tents to sleeping bags, SHIPHYPE can store, pack and ship any camping gear. We understand the importance of having reliable fulfillment services for this sector, so we guarantee high-quality standards throughout our operations.
Fishing Gear
Fishing is another key player in the outdoor equipment industry, and we know just how important it is to get the right gear in order. SHIPHYPE provides reliable fishing gear fulfillment services to ensure your orders are delivered on time and without hassle.
Outdoor Apparel
Outdoor apparel is a booming business, so it's no surprise that it's a major part of the outdoor equipment market. SHIPHYPE provides reliable fulfillment services for any type of apparel, including jackets, hats, and more. We understand the importance of high-quality packaging materials and guarantee that your orders will arrive in perfect condition.
Hunting Supplies
Hunting supplies are another important part of the outdoor equipment industry; we have experience stocking and delivering these items. SHIPHYPE can provide reliable fulfillment services for any hunting supply you need, including ammo, optics, and more. We understand the importance of ensuring that each item is safely stored and shipped carefully.
Canoes and Kayaks
Canoes and kayaks can be difficult to manage, but SHIPHYPE understands the importance of high-quality packing material. We will provide durable packaging materials that are specifically designed for your canoe or kayak so that it arrives in perfect condition.
Outdoor Equipment Maintenance and Repair
Finally, we understand that your business may require maintenance and repair services for your products. SHIPHYPE can also provide such services, helping to ensure that your products are functioning properly and safely. We have the resources necessary to keep your outdoor equipment in perfect condition.
Why Choose SHIPHYPE?
SHIPHYPE is the leading 3PL for outdoor goods, offering a one-stop shop for all your shipping needs. Our experienced and knowledgeable staff will help you quickly and efficiently identify the best options for getting your products to their destination. Not only do we have access to some of the top carriers in the industry, but our services are tailored to the unique needs of outdoor goods.
Our competitive shipping, storage, and inventory management rates will give you peace of mind that your products are in good hands. Plus, our commitment to customer service is unmatched. We provide around-the-clock support for all your questions and concerns about your shipment. Some of the benefits of working with SHIPHYPE include the following:
Flexible services
We are dedicated to helping you find the best solution for your shipping needs, no matter what size or shape of products you need to ship. Our range of 3PL services includes warehousing and storage solutions, along with full-service transportation of goods.
Quick turnaround times
Outdoor equipment companies need their products to reach their destination fast, and SHIPHYPE is here to ensure that happens. Our speedy delivery times ensure that your products arrive where they need to be on time every time.
Lower Shipping Costs
At SHIPHYPE, we strive to offer our customers competitive shipping and inventory management rates. This allows you to focus more of your budget on other aspects of your business, like marketing or product development.
Scalable Solutions
Our 3PL services are designed to grow as your business does. Whether looking for short-term or long-term solutions, SHIPHYPE can help you find the best solution for your shipping needs.
Expert Staff
You must have knowledgeable people in charge of handling your outdoor goods. That's why SHIPHYPE employs experienced professionals who understand your unique needs and can help you find the right solutions for success.
At SHIPHYPE, we recognize that outdoor equipment is a fast-moving industry, and our goal is to offer reliable services at competitive prices. With our tailored 3PL solutions, you can rest assured that your products are in good hands. Choose SHIPHYPE for all your outdoor shipping needs and get the best service. Contact us today to learn how we can help you with 3PL for outdoor goods!
Request a quote
Fill the form below and our sales team will be in touch.
Don't like forms?
Email Us:
[email protected]