Looking to Outsource Order Fulfillment to a 3PL?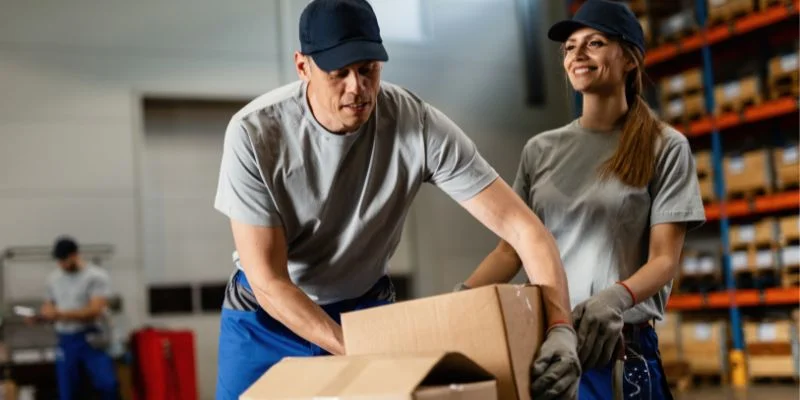 Advantages Of Using A Shipping Fulfillment In Los Angeles
When it comes to eCommerce businesses, Los Angeles is the place to be. It's a booming hub for retail and shipping fulfillment services. If you are someone who is looking to benefit from utilizing a shipping fulfillment service, Los Angeles is the perfect place for you.
A shipping fulfillment based in LA will not only give you access to the local market, but they can also help you ship items all around the world. With their expertise and knowledge of the shipping industry, they can help ensure that your packages arrive safely and on time.
Benefits Of Working With A Shipping Fulfillment Center In Los Angeles
When you're looking for a shipping fulfillment in Los Angeles, it pays to invest in one that has the experience and know-how to make your business successful. Here are just a few of the many benefits you can reap from using a shipping fulfillment center in Los Angeles:
Automate Warehousing & Fulfillment:
A shipping fulfillment center in Los Angeles can help streamline the warehousing and fulfillment process to make it easier for your company. By automating your entire shipping process-from receiving orders to packing and shipping them, out-you'll be able to save time, money, and energy.
Focus on Growth and Selling:
By entrusting the fulfillment process to Los Angeles-based shipping experts, you can use your time and resources more effectively. This allows you to focus more on selling and growing your business rather than packing and shipping orders which can be quite frustrating.
Simpler Accounting:
When you work with a fulfillment center, they can provide you with detailed and timely reports on the status of orders. This simplifies accounting and reporting for your business which will save you even more time and resources to grow your business at a faster rate.
Services Offered By Shipping Fulfillment Centers In Los Angeles
Shipping fulfillment centers in Los Angeles typically offer a range of services to assist businesses with their order fulfillment and shipping needs. Here are some common services:
Inventory Management:
Shipping fulfillment providers help all sizes of businesses to manage their inventory by providing warehousing, custom packaging, and storage facilities. They receive and store products, track inventory levels, and ensure timely replenishment to meet customer demands.
E-commerce Integration:
Fulfillment centers in Los Angeles also offer integration with e-commerce platforms like Shopify, WooCommerce, or Amazon. This integration enables seamless order processing, inventory synchronization, and real-time tracking updates for businesses selling online.
Returns and Exchanges:
Many shipping fulfillment in LA handles returns and exchanges on behalf of businesses. They receive returned items, inspect them for quality and condition, process refunds or replacements, and update inventory accordingly, which is ideal for international shipping.
Things To Consider When Looking For A Shipping Fulfillment Provider
When looking for a shipping fulfillment provider, there are several factors to consider to ensure you choose the right partner for your business. Here are some key considerations:
Level of Service:
The type of services that a shipping fulfillment provider offers; play a major role in determining which provider best meets your needs. Look for one that offers a full range of services, including order processing, inventory management, product packaging, and shipping.
Cost:
The cost of shipping fulfillment services can vary significantly from provider to provider, so it is important to compare prices and find the most cost-effective option for your business needs. Look for a provider that offers highly competitive pricing and discounts for bulk orders.
Technology & Software:
The technology and software that a shipping fulfillment provider uses to manage and track orders are essential for seamless operations. It should include features such as real-time tracking, amazon FBA prep services, eCommerce platform integrations, warehouse management systems, and automated shipping as well as returns and refunds processes.
Does Your Business Need A Shipping Fulfillment Los Angeles Provider?
Shipping fulfillment is, without a doubt, a key component of any successful business. Whether you are selling goods online or through brick-and-mortar stores, having a reliable shipping and fulfillment partner is essential to thrive in today's competitive retail landscape.
If you live in Los Angeles, then a shipping fulfillment provider can be especially beneficial for your business. Los Angeles is a major hub for every type of eCommerce store, and partnering with a shipping fulfillment provider in the area can take your business to the next level.
Differences Between Shipping Fulfillment and Warehouse
The key difference between shipping fulfillment (or distribution center) and warehouse is that shipping fulfillment companies focus on the complete order fulfillment process, including receiving, processing, packing, custom branded boxes, and shipping of customer orders.
On the other hand, a fulfillment warehouse primarily serves as a storage facility for goods, where inventory is stored until it is needed for distribution or other purposes. Warehousing services are less associated with order fulfillment, custom packaging, and shipping.
What Type Of Companies Look For Shipping Fulfillment In Los Angeles?
A wide range of businesses and organizations in Los Angeles look for shipping fulfillment services companies for assistance. However, some of the most popular industries include:
Subscription Box Companies:
Subscription box companies that are looking to expand their reach and increase customer satisfaction often seek out fulfillment companies in Los Angeles. Services like boxing, labeling, and shipping help these businesses to keep up with the demand of their subscription model.
eCommerce Sellers:
eCommerce businesses are always looking for ways to maximize their profits. Having a partner like an eCommerce fulfillment services company in Los Angeles can help them reduce overhead costs, eliminate waste, and increase customer satisfaction with faster shipping.
Retail Stores:
Traditional retail stores in LA often look for shipping fulfillment services to help them better manage their inventory and keep up with customer demand. Retail fulfillment like order and inventory management and kitting are especially helpful for retail stores.
Why choose SHIPHYPE As Your Shipping Fulfillment Provider?
Accurate Picking:
At SHIPHYPE, they just don't pick up the order and ship it; they are committed to accuracy and quality control. Their team of experienced & professional pickers carries out manual order checks before sending off any shipment to ensure that you don't end up losing any items.
Affordability & Visibility:
SHIPHYPE offers the most competitive prices in the industry. They also offer full visibility of your orders and shipments, allowing you to track them in real-time without having to manually update any order or shipment status, which can be time-consuming and hectic.
Flexibility & Scalability:
SHIPHYPE recognizes the fact that every business has different needs and offers a range of fulfillment services so that you can build the perfect package for your business. From order fulfillment to warehousing and shipping, this true omnichannel fulfillment is a perfect option.
Request a quote
Fill the form below and our sales team will be in touch.
Don't like forms?
Email Us:
[email protected]