Looking to Outsource Order Fulfillment to a 3PL?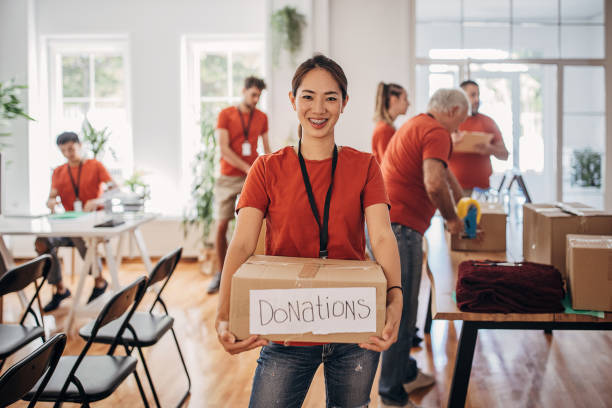 Why Do Non Profits Look For 3PLs?
Non profits organizations are often focused on the mission, not managing their entire inventory. They usually have limited resources and must save time, energy, and money to make the most of their operations. A third-party logistics (3PL) fulfillment company can help streamline the organization's supply chain by managing product fulfillment services such as warehousing, order processing, shipping, and returns.
Some of the benefits of working with a 3PL include the following:
A Reduction In Overhead Costs
Outsourcing fulfillment services reduces overhead costs associated with labor, space, and operational equipment. If you're running a small nonprofit, this can be a huge advantage.
A Streamlined Fulfillment Process
A 3PL can handle your entire inventory and help streamline the order fulfillment process. You don't have to worry about handling shipments or returns, as the 3PL will handle them.
Branded Merchandise
If you're looking to offer branded merchandise or other products, a 3PL can help with that as well. They have the expertise and resources to handle the entire process from start to finish, leaving you free to focus on your mission.
Whether you're running an ecommerce store, selling merchandise or products to support your mission, or need to streamline the fulfillment process, working with SHIPHYPE is the perfect solution. Our mission is to help you grow your nonprofit, and our fulfillment services are tailored specifically to meet the needs of non profits.
Do 3PLs Work With Non-Profits?
Third-party logistics (3PL) companies work with nonprofits, small businesses, and online stores to help them manage their entire inventory. A 3PL will provide fulfillment services such as warehousing, order processing, shipping, and returns management so that the organization can focus on its mission while maintaining complete control over its supply chain.
Additionally, SHIPHYPE's fulfillment services are tailored to meet the needs of non profits, making it an ideal solution for organizations looking to streamline their supply chain. With our commitment to excellence and top-notch customer service, you can rest assured that your organization's needs are in good hands.
Why Is It Hard For Non-Profits To Find A 3PL?
Unlike online stores or small businesses, nonprofit organizations find many challenges when finding a 3PL that can meet their needs. Nonprofits have unique requirements and typically need a more specialized solution than traditional fulfillment companies offer. Some of the common challenges nonprofits encounter include the following:
Costs
Nonprofits must be mindful of their budget and often seek a cost-effective solution. Finding a 3PL that is both affordable and reliable can be difficult.
Flexibility
Nonprofits typically require more flexibility than online stores or small businesses regarding fulfillment services. They need a 3PL willing to tailor the services to meet their needs.
At SHIPHYPE, we understand nonprofits' unique challenges in finding a 3PL that fits their budget and needs.
What To Look For In A 3PL If You Are A Non-Profit Organization?
The market is flooded with numerous 3PLs that promise to do it all. But not every 3PL is well-suited to meet the needs of nonprofits. When looking for a 3PL, it is important to keep an eye on the following factors:
Experience And Expertise
The 3PL should have experience working with nonprofits and understand their unique requirements. They should have a track record of successful projects with reputable non-profit organizations.
Multiple Warehouse Options
This is a must for non-profits as they need the flexibility to store their inventory across several warehouses. This can help them manage costs and serve customers better.
Cost-Effective Services
Nonprofits should always look for a 3PL that provides cost-effective solutions without compromising quality. They should also ensure that the 3PL offers services tailored to meet their organization's needs.
Automated Solutions
Nonprofits need to find a 3PL that offers automated solutions and processes that can help them streamline their operations. Automation can help reduce costs and ensure better efficiency.
At SHIPHYPE, we understand nonprofits' unique needs and are dedicated to providing real-time solutions that meet their requirements. With our commitment to excellence and top-notch customer service, you can rest assured that your organization's needs are in good hands.
Problems You Will Face When Searching For A 3PL As A Non-Profit
When searching for a 3PL as a nonprofit, there are certain pitfalls that you should be aware of.
If you don't find reviews or references, find out why. You will want to ensure that the 3PL you choose is reliable and credible.
A lack of automation could lead to manual errors and delays in processing orders. Automating processes can help reduce costs and eliminate unnecessary labor.
Not all 3PLs understand nonprofits' unique requirements and may be unable to meet your needs.
If the 3PL is not flexible, it may be difficult for you to make changes or add services if needed.
SHIPHYPE is concerned about the unique needs of non profits and provides them with comprehensive solutions. Our team of experts is always available to answer any questions, ensuring that your organization's goals are achieved promptly.
Why Choose SHIPHYPE As Your Fulfillment Partner?
Finding the right fulfillment partner is important if you're a nonprofit organization. Not only do you want to ensure that you have the latest technologies and solutions at your disposal, but you also need to ensure that any services your provider offers are affordable for your budget.
That's why SHIPHYPE aims to provide the best 3PL services for nonprofit organizations. Their comprehensive services are designed to help you save time and money while still giving your organization the highest quality service. From order fulfillment and warehousing to shipping and returns management, SHIPHYPE covers all your needs.
Real-Time Inventory
Nonprofit organizations are different from an online store. That's why SHIPHYPE offers a real-time inventory system that ensures your organization always has up-to-date information regarding its products and stock levels. This way, you can ensure you never run out of items or find yourself overstocked.
Shipping Services
Getting items to their destination quickly and cost-effectively is essential for charities and other nonprofit organizations. SHIPHYPE offers a wide range of shipping services that can be tailored to meet the needs of any organization. From cost-effective ground shipping to express delivery options, SHIPHYPE ensures your products always arrive on time and in perfect condition.
Returns Management
Returned items can be costly for nonprofit organizations, but with SHIPHYPE's returns management solutions, you can rest assured that any returned items are processed efficiently. Plus, their easy-to-use portal lets you track all returns in real-time, so you'll never have to worry about lost or damaged merchandise.
Customer Support
SHIPHYPE understands that getting the right help is essential, so they offer 24/7 customer support. No matter your questions or concerns, their knowledgeable and friendly team of experts can provide answers and solutions quickly.
At SHIPHYPE, they believe that every organization should have access to the best possible 3PL services. That's why they strive to make their comprehensive suite of solutions as affordable and user-friendly as possible, so you can focus on what matters most: empowering your mission and making an impact. Contact us today to learn more about how SHIPHYPE can help your nonprofit organization succeed.
Request a quote
Fill the form below and our sales team will be in touch.
Don't like forms?
Email Us:
[email protected]